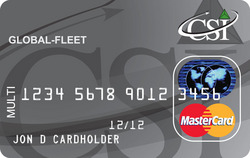 By monitoring spending online and in real time, fleet managers maintain complete control of all purchases
Bonita Springs, FL (PRWEB) September 12, 2008
CSI Enterprises, Inc. announces more savings for businesses of all sizes with the expansion of purchasing capabilities of the universally accepted CSI MasterCard® Corporate Fleet Card. By incorporating the most comprehensive card controls available, the renamed CSI MasterCard Corporate Multi Card may be used not just for fuel and maintenance, but for all fleet business purchasing needs wherever MasterCard is accepted.
"Market conditions continue to demand fleet businesses to do everything they can to control spending," said Keith Stone, CSI Enterprises, Inc. president. "As such, we continue to work diligently to find new ways to bring the most savings to our clientele."
As a fuel card, the CSI MasterCard Corporate Fleet Card has been saving fleet businesses up to 15 percent or more on their fuel expenses. With expanded purchasing capabilities, significant savings may now be enjoyed both at the pump, as well as with many other corporate spending needs.
The foundation for savings comes with the CSI MasterCard Corporate Multi Card's comprehensive card controls.
"By monitoring spending online and in real time, fleet managers maintain complete control of all purchases," explained Stone. "In addition, we give managers the capabilities to adjust limits as needs arise."
With the expanded purchasing capabilities, fleet managers customize each card in their account by designating their use for either fuel only, fuel and maintenance, or corporate purchasing, as well as setting both individual purchase and daily spending limits, and even the day and times of day each card may be used.
"Unauthorized spending is one of the biggest areas businesses can cut costs," Stone said. "By giving managers the capability to both monitor card purchases and adjust card limits and restrictions, it has been proven that unauthorized spending can be virtually eliminated."
Besides the comprehensive card controls and security, the CSI MasterCard Corporate Multi Card comes with all the advanced savings features CSI clientele have used to realize significant fuel savings including access to the CSI Fuel Discount Network and online Low-Price Locator.
"Innovation is essential to being a leader in any industry," Stone said. "We will continue to find new ways to bring the most savings to our clients. Our expanded purchasing options exemplify our desire to maintain our position as a leader in the corporate purchasing industry."
To apply for and learn more about the CSI MasterCard Corporate Multi Card, visit http://www.csi-gascard.com.
About CSI Enterprises, Inc
CSI Enterprises Inc. provides a specific line of controlled financial payment products including business fleet fueling/maintenance payment cards, a corporate virtual payment MasterCard® and card solutions for corporate purchasing, travel and entertainment spending. Today CSI and its products operate in all fifty states including Canada, Mexico and Caribbean with operating subsidiaries involved in municipal tax reclamation, venture capital and real estate development activities nationwide. Since 1988, CSI Enterprises Inc. was the first and largest U.S. organization to have a successful corporate asset management and payment network throughout the U.S. and Latin America. The CSI MasterCard® Corporate Fleet Card and the CSI MasterCard Corporate Multi Card are issued by Regions® Bank pursuant to a license by MasterCard International Incorporated. 
MasterCard and the MasterCard Brand Mark are registered trademarks of MasterCard International Incorporated.
###