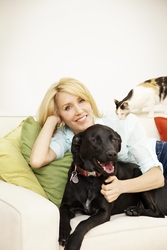 When our family decided to get a new pet, we chose to adopt, and now, Tucker is more than a wonderful pet, he's part of our family.
Dayton, OH (PRWEB) September 25, 2008
Propelled by a decade of success - having placed more than 2 million pets into homes since it began in 1999 - Iams Home 4 the Holidays launches its annual adoption program and announces the campaign's most aggressive goal to date, which is to find loving homes for at least 1 million animals between Oct. 1, 2008 and Jan. 5, 2009. To bring greater awareness of and help curb pet homelessness, Iams Home 4 the Holidays has teamed with award-winning actress Felicity Huffman to serve as its North American Ambassador. Founded by Helen Woodward Animal Center in 1999, Iams Home 4 the Holidays harnesses the power of nearly 3,000 worldwide animal organizations in a global effort to raise awareness about the importance of pet adoption.
Because there are millions of orphaned pets around the world - with as many as 8 million* in the U.S. alone -- Iams Home 4 the Holidays is working with Huffman to inspire others to open their hearts and homes to an orphaned pet during this adoption drive. Motivated by her own pet adoption experience -- Huffman adopted her black Labrador mix, Tucker, as a puppy from a Los Angeles rescue group in 2006 -- she is committed to helping educate people about the amazing animals in shelters that are awaiting loving and committed owners. Huffman is encouraging people to get involved and learn more about pet adoption.
"I'm proud to be a part of Iams Home 4 the Holidays to help raise awareness about the importance of pet adoption so we can place 1 million animals in loving homes this holiday season," said Huffman. "When our family decided to get a new pet, we chose to adopt, and now, Tucker is more than a wonderful pet, he's part of our family."
By providing resources and information about participating rescues and shelters, potential pet owners are encouraged to visit animal shelters and rescues to adopt dogs, cats or other animals waiting for a home when they are considering a new four-legged family member.
"Felicity's first-hand knowledge and experience from adopting Tucker, coupled with her passion to educate people about the millions of homeless animals looking for homes, makes her an amazing ambassador and voice for Iams Home 4 the Holidays," said Dan Rajczak, General Manager, P&G Pet Care in North America. "Last year, our pet adoption drive found homes for nearly 500,000 animals, and this year, we've doubled our adoption goal. All of our partner animal organizations, including the team at Helen Woodward Animal Center and the pet passionate folks here at Iams are committed to working together to help place at least 1 million orphaned pets into new homes."
Important Facts

There are as many as 8 million* orphaned pets in the United States.
As many as 4 million* orphaned dogs and cats will be euthanized this year due to shelter overcrowding.
For anyone interested in adopting a purebred dog, it's helpful to know that more than a quarter of all dogs in animal shelters are purebreds.
More than 15 countries participate in this adoption drive, making Iams Home 4 the Holidays one of the world's largest pet adoption programs. There are participating shelters in Canada, Iran, Australia, India, New Zealand, Iraq and more.
Iams Home 4 the Holidays has helped more than 1,047,000 dogs, 962,000 cats and 66,000 other animals, such as rabbits, reptiles, birds and more, find homes over the past nine years.
The pet adoption campaign takes place October 1 through January 5, 2009 and anyone who adopts a dog, puppy, cat or kitten will receive an Iams Adoption Starter Kit, which includes a care guide loaded with tips and information about pet care, behavior, training and nutrition. The kit also includes the new pet's first meal as well as coupons for great savings on additional pet food, other supplies and animal health insurance.
To learn about the myriad ways to help an orphaned pet, including finding participating shelters, volunteering and making a donation to support animal organizations and pets awaiting new homes, visit http://www.Iamshome4theholidays.com.
About Iams Home 4 the Holidays (IH4TH):
As one of the most successful pet adoption programs in the world, IH4TH partners thousands of animal organizations dedicated to finding forever homes for orphaned pets. Founded by Helen Woodward Animal Center and supported by Iams, IH4TH began in 1999 with just 14 participating animal shelters in San Diego County. Since it began more than 9 years ago, IH4TH - along with nearly 3,000 pet adoption centers - has helped more than 2 million families experience the joy of pet adoption, including nearly 500,000 pet adoptions last year alone. For more information, please visit http://www.iamshome4theholidays.com.
About Helen Woodward Animal Center:
Helen Woodward Animal Center is a private, non-profit organization where "people help animals and animals help people." Founded in 1972 in Rancho Santa Fe, Calif., the Center provides services for more than 57,000 people and thousands of animals annually. Helen Woodward Animal Center is also the creator of the international Home 4 the Holidays pet adoption drive and the Animal Center Education Services program, teaching the business of saving lives to animal welfare leaders from around the world.
About P&G Pet Care:
For more than 60 years, Procter & Gamble Pet Care (NYSE:PG), the maker of Iams and Eukanuba, has enhanced the well-being of dogs and cats by providing world-class quality foods and pet-care products. To learn more about Eukanuba® and Iams® Dog & Cat Foods or general pet care and nutrition information, call the Iams Consumer Care Center at (800) 446-3075. You can also visit us on the Web at http://www.iams.com or http://www.eukanuba.com.
About Procter & Gamble:
Three billion times a day, P&G brands touch the lives of people around the world. The company has one of the strongest portfolios of trusted, quality, leadership brands, including Pampers®, Tide®, Ariel®, Always®, Whisper®, Pantene®, Mach3®, Bounty®, Dawn®, Gain®, Pringles®, Folgers®, Charmin®, Downy®, Lenor®, Iams®, Crest®, Oral-B®, Actonel®, Duracell®, Olay®, Head & Shoulders®, Wella®, Gillette®, and Braun®. The P&G community consists of 138,000 employees working in over 80 countries worldwide. Please visit http://www.pg.com for the latest news and in-depth information about P&G and its brands.
# # #