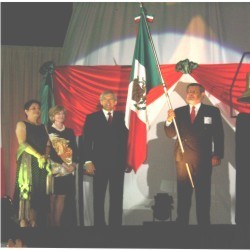 Dallas, TX (PRWEB) September 12, 2008
Dallas celebrates in color and splendor, Mexico's Independence Day, the official "Grito de Dolores." The event will be held at the Super Pages.com Center at Fair Park on Monday September 15, 2008 starting at 6:30 p.m. and ending at 11:00 p.m. The ""Grito de Dolores" will be led by the Honorable Ambassador Enrique Hubbard Urrea, Consul General of Mexico, accompanied by the Honorable City of Dallas Mayor Tom Leppert. As in previous years, thousands of participants are expected to attend the family-oriented festivity with music, folkloric, traditional dance events, children's activities, and food in the midst of many vendors and sponsors.
The "Grito de Dolores" is a symbolic tradition religiously observed by the people of Mexico in commemoration of Mexico's Independence from Spain in 1825. September 16th is the most important national holiday observed with respect and reverence to the heroes who fought for liberty along with the natives who had been held captive since Hernando Cortez conquered Mexico.
It is a holiday that unites all Mexicans throughout the world. Dallas is no exception. The Smirnoff Music Center will gleam in the patriotic colors of green, white, and red which are the colors of the flag and which have distinct meaning: green (faith); white (unity); and red (the blood shed by the people who fought for liberty.)
The General Consulate of Mexico in Dallas invites the North Texas community to celebrate Mexico's Independence Day and enjoy the multiple fun activities, music, food, and the presence of many vendors showcasing their best promotions. We will see YOU and your family there! Viva Mexico!
About the General Consulate of Mexico: http://www.sre.gob.mx/dallas/
The General Consulate of Mexico inaugurated its first office on September 11, 1918 in Fort Worth, Texas; its offices were relocated to Dallas in 1939. In those days, the Consulate tended to the documentation needs of approximately four thousand people. Today, the Dallas Consulate assists the needs of over one million people residing in 123 counties across North Texas. The Dallas Consulate's office is the third most active in documentation preparation and origination next to the Los Angeles, California and Chicago, Illinois offices respectively. About Spanish Marketing, Inc., visit http://www.spanish-marketing.com, for contact information call 214 905 0915 or e-mail yccrosley @ spanish-marketing.com.
# # #