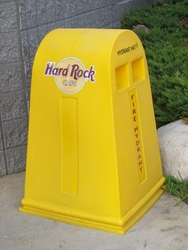 Los Angeles, CA (Vocus) September 16, 2008
They are as common as overhead street lamps or a neighborhood post box, but unlike these mundane yet functional devices, faulty fire hydrants can leave city residents and firefighters vulnerable or even worse. The current state of fire hydrants in most major cities poses a serious risk to both the individual and community on many levels. A recent investigation conducted by CBS 46 found that there are 289 out-of-service fire hydrants in the city of Atlanta alone.
From hydrant theft to system malfunction due to severe weather conditions such as freezing temperatures, fire hydrants are susceptible to a multitude of debilitating factors. Americans must ask whether a system that has been in place for over one hundred years might need some modification in order to sustain pressures from increased populations, infrastructure and extreme climates.
Although it has been well established that exceedingly poor maintenance policies combined with severe winter conditions are responsible for the increase in faulty fire hydrants, little has been done on both the state and municipal level to address the issue. Like most lingering problems permeating the American landscape today, difficulties revolving fire hydrants stem from lack of initiative and creativity.
It seems that in order to circumvent traditional channels of opposition and create solutions, a system would have to be implemented that cuts costs on maintenance while providing functionality regardless of freezing temperatures and acting as a deterrent against theft. Though there are many products that have aimed to address one aspect of the overall problem, only the HYDRANT HAT offers protection against all of them.
Praised by firefighters for its practical advantages, Hydrant Hat's patented design protects against extreme weather conditions while promoting enhanced visibility for firefighters battling fires in deep snow. With its ability to help firemen drastically save time in critical moments, Hydrant Hat allows firefighters to reduce property loss and save lives in emergency situations.
On school playgrounds across the nation, exposed fire hydrants place children at risk. Because of its durable, yet malleable construction, Hydrant Hat offers a safer protective buffer between active children and hydrants. For this reason alone, the state of Ohio has mandated the Hydrant Hat in its school system.
Winner of Homeland Security Award in 2007, Hydrant Hat (http://www.hydrant-hat.com) offers a sustainable modification to an antiquated system that solves problems today while anticipating problems of tomorrow. Also awarded for the concepts 'outside the box thinking,' Hydrant Hat's unique build allows its end user an additional platform from which to sell advertising. This dynamic invention literally pays its own maintenance costs while elevating firefighters' ability to save lives.
Hydrant Hat lasts up to 25 years. U.S. Patent 6536462 Hydrant Hats are available in two configurations and are available in multiple colors.
For more information, please visit http://www.HydrantHat.com
David Toledano
XTS Global
dtoledano(at)xtsglobal.com
(323) 545 - 6767
###