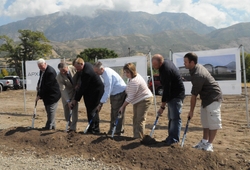 We wanted the design of our campus and its buildings to express our purpose to protect families and empower employees to work together in a culture of learning
Provo, Utah (PRWEB) September 12, 2008
APX Alarm Security Solutions, Inc., one of the nation's largest residential security alarm companies, announced that ground breaking ceremonies were held yesterday for the new corporate headquarters campus located adjacent to the property of 5050 North 300 West in Provo, Utah.
Company executives, employees and local dignitaries were in attendance. This project is scheduled to be completed during the spring of 2010. Based on current growth projections, APX Alarm is expected to hire an additional 1,000 employees over the next few years.
The design principles for the new facilities were inspired by visits to Google Inc. and Apple Inc. to learn how those companies were guided by their unique culture and values to influence the physical characteristics of the architecture and functionality of the building. "We wanted the design of our campus and its buildings to express our purpose to protect families and empower employees to work together in a culture of learning," said Todd Pedersen, CEO of APX Alarm Security Solutions.
This new campus will include two of the most unique office buildings in the Intermountain Region. Some of the design principles include the use of natural light and openness along with social gathering space inside the buildings to foster collaboration, creativity and communication for APX Alarm employees. Common areas for meetings, study and renewal are prominent in the design to encourage a family atmosphere where employees have a home away from home.
APX Alarm's focus on being an industry leader is evident in the architecture by having various cutting edge technologies included in the design of the building. In addition, multiple forms of media are incorporated into the design to foster communication and unify employees in their common purpose to help customers.
The campus will have large open areas of green space for both company and public access to enjoy the beauty of the surrounding area. Environmentally friendly "green" design characteristics will be in place to create energy efficient work spaces. The architectural firm Curtis Miner Inc., Orem, Utah will provide the primary design for the buildings exterior and campus. Pollack Architecture, San Francisco will lead the interior space development design strategy.
About APX Alarm Security Solutions, Inc.: APX Alarm Security Solutions Inc. (http://www.apxalarm.com ) provides residential security to customers throughout North America. Since its founding in Provo, Utah in 1999, APX has installed almost 500,000 home security systems. The company has an average annual growth rate of 105 percent since it began operations. Additional information can be found by visiting our web site.
# # #