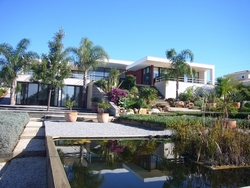 We believe this shift in strategy uniquely positions our company to provide the utmost service based on our clients' lifestyles, while setting ourselves far apart and steps ahead of our competition
Vilamoura, Portugal (PRWEB) September 16, 2008
Imagine you have decided to buy a home in Portugal. Your estate agent puts you up in a local hotel for three days and two nights, wines and dines you, shows you a selection of homes, baby-sits your kids and even offers a massage at the end of your stay. Sounds like a dream, right? Not really. Beginning this week, Atlantic Estates implements an innovative three-tiered strategy designed to accommodate lifestyle needs of their clients, while staying competitive in the current economy.
On the client side, Atlantic Estates raises the bar in providing personalized service. For the qualified home buyer, Atlantic Estates' offers Lifestyle Visits, a complimentary themed travel packaged to view homes in Portugal. Buyers can select from ocean-, nature-, culture-, golf- or gourmet-themed trips. Other complimentary services offered to assist in buyers' decision making process include: massage therapy; baby-sitting services; interior design or feng shui consultation; and upon purchase, a "welcome package" in the new home consisting of wine, flowers and groceries.
In the back office, Atlantic Estates utilizes custom-made technology to manage data on buyers and properties, and direct Customer Relationship Management (CRM) activities. Procedures are programmed to automatically email new home information matching client specifications. An Agent Zone is available for partner agents to register and monitor client activities, as well as download promotional materials. Similarly, a Buyer Zone provides access to a partitioned online system allowing buyers to monitor visit activity, client comments and property promotion.
Complimenting this "fresh approach" strategy is a redesign of the Atlantic Estates image. The focus is on modernity, exclusivity and prestige. This bold new identity utilizes colors in deep rich blue and luxurious gold. The new image will be rolled out through the company website and advertising campaigns.
"We believe this shift in strategy uniquely positions our company to provide the utmost service based on our clients' lifestyles, while setting ourselves far apart and steps ahead of our competition," says Artur Simes, Managing Director of Atlantic Estates. "We always strive to be different. Our clients appreciate the efforts, and this contributes to our success."
Additionally, the Atlantic Estates property portfolio will be trimmed to accentuate homes of distinction, from modern townhouse to hilltop estate. Properties with unique architectural design are a cornerstone of the portfolio. Homes reflecting the leisure lifestyle of our clients are also key.
"Our message is clear," adds Simes. "Work with us. You will enjoy the experience, and you will find the perfect home."
About Atlantic Estates:
Atlantic Estates is celebrating its 5th year providing professional, personalized service to those selling and buying prestige properties along the coasts of Portugal. The company's headquarters is near the marina in Vilamoura, in the Algarve. It also has an office in Cascais serving the Lisbon area. Along the Silver Coast, Atlantic Estates is partnered with Beltico Group, providing sales assistance for homes in the popular Praia d'el Rey community. Through arrangements with select international agents, the company's client base extends across Europe including the U.K., Ireland, the Netherlands, Germany, Denmark and Russia. Its continuing philosophy of innovation, exclusivity, technology and service positions the company for another five years of property investment success.
###