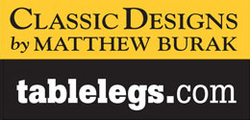 Home remodeling is driving our business right now
St. Johnsbury, Vermont (PRWEB) September 23, 2008
Classic Designs by Matthew Burak, manufacturer of high-quality turned columns for kitchen and bath cabinetmakers, has seen company sales grow at an annual rate of 12% over the last 20 months. Internet sales from the company's website, tablelegs.com, have grown 61% over the same period last year.
"Home remodeling is driving our business right now," says General Manager David Redmond. "Our customers are cabinet makers from all over the country. They are telling us a couple interesting things. One, homeowners trying to sell their home in slow markets are remodeling kitchens in an effort to attract buyers. These people use our columns, legs and corbels to update an older home with its first kitchen island. Two, we're hearing that clients whose homes are not on the market are doing some serious cocooning. Instead of the big travel vacation, homeowners are investing in spending leisure time at home," Redmond says.
"Kitchens are getting bigger, with more ambitious trim packages at the high and upper-middle end levels," Redmond continues. "Our products give cabinetmakers an easy way to make cabinetry look more luxurious." Classic Designs can modify any stock to give a custom look without the big expense of truly custom-turned components.
For more information on Classic Designs by Matthew Burak products, please visit tablelegs.com.
About Classic Designs by Matthew Burak
Classic Designs offers furniture and architectural components to wood-workers on a just-in-time, semi-custom basis that are hard to find or hard to make. These products are sold primarily business-to-business through direct and wholesale channels and are supported by a high level of customer service. Classic Designs offers products of only the highest quality in terms of materials, workmanship, and timeless, principled design.
For more information contact:
Grace DiNapoli
Classic Designs by Matthew Burak
84 Central Street
St. Johnsbury, VT 05819
grace@tablelegs.com
###