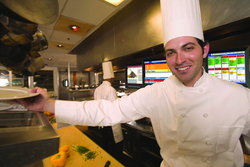 ConnectSmart is the missing link between front and back of house
(Vocus) September 12, 2008
Wouldn't it be great if front of house knew accurately how long before each table would finish dining and be free for the next customers? That way staff could turn around the maximum number of tables -- so restaurants got the maximum profit. And while we're at it, how about a way to ensure that all the food for a big order is ready at the same time, so that none of it has to wait (and wilt) on the kitchen hot plate?
Call-Systems Technology (CST) will introduce the ConnectSmart® Hospitality Automation Solution from QSR Automations® (QSR) at Restaurant Show 2008. ConnectSmart connects every part of the restaurant together -- reception, waiters, chefs, management and bar -- to deliver the most advanced restaurant automation system ever to launch into the UK. Developed by leading hospitality technology provider QSR and already proven in thousands of locations in the USA, ConnectSmart is set to make UK restaurants more efficient and more profitable.
For example, when a waiter enters an order on the EPOS terminal, the system flashes it through to ConnectSmart screens in the kitchen. The screens are mounted at all the various chef stations - salad prep, grill and so on -- and the system gives each station its particular section of the order.
And here's the really clever bit: ConnectSmart times delivery of each part of the order so that each kitchen station is working at the right time for the different parts of the order to arrive at the hotplate simultaneously. So the chef whose job will take the longest -- say, for a soufflé -- starts on the order earlier than the chef who is to prepare the green salad.
Since time immemorial chefs have taken their 'orders' on written or printed dockets -- from the tab grabber -- and each table's food tends to get prepared all at the same time, whether it's salad, risotto or steak and chips. By organising the kitchen workload ConnectSmart ensures maximum efficiency and minimum hot-plate-time for customer meals -- which maximises food quality.
ConnectSmart relays this order-time information back from the kitchen to front of house, so that staff know exactly when a table's food will be ready and, crucially, how long before the table is likely to be free for the next customers. Which means the whole restaurant operation is joined together, working with the same information at maximum efficiency.
"ConnectSmart is the missing link between front and back of house," says Ashley Sheppard of CST. "By making restaurants more efficient it helps maximise profits -- which has got to be even more vital in the current economic climate," Sheppard points out that the system is also economically priced: "We would expect ConnectSmart to pay for itself within months, simply through improved efficiency."
ConnectSmart's ability to integrate its kitchen automation system with front of house table and capacity management is an industry first. As well as being highly intelligent, the ConnectSmart software is compatible with all leading EPOS systems, while the hardware is built to cope with the steam, grease and the generally 'hi-tech-hostile' environment of busy kitchens.
CST will demonstrate the power of QSR's ConnectSmart solution on its own dedicated stand, K88, in a real-time 'café style' setting. The modules on show are ConnectSmart Hostess, for streamlining table management and waiting lists, ConnectSmart Kitchen, for better management and control of the kitchen ordering stream, ConnectSmart Reservations, for advance reservation and personalised response to guests, and ConnectSmart WebAhead and ConnectSmart WebReserve, for guests to enter the wait list or make a reservation via the Internet. "Using the modules together or separately, ConnectSmart represents a fundamental enhancement of management control within the restaurant, offering better service for customers and greater profitability," says Sheppard.
Meanwhile, on stand K81 CST will demonstrate the latest versions of its established hospitality range, including:

WaiterCall - increasing efficiency of food and drink service
WaiterCall is the popular waiter paging system that lets bartenders or kitchens alert the serving staff when orders are ready. With WaiterCall drinks and food are served as quickly and efficiently as possible, and because service is quicker, tables can be turned more quickly and customers kept satisfied.
EasyCall - a simple solution to speed up order-taking and generate profit EasyCall is a simple but tough and highly profitable table paging system - a table-mounted push-button system that the customer presses so that the waiter knows which table is ready to place an order. Weatherproof, it can be used outdoors or in, and is extremely useful for larger bars and restaurants where waiting staff can't see all the tables easily. It is wireless, discreet, unobtrusive and inexpensive, with almost no operating costs. EasyCall can pay for itself within weeks, just from the extra orders each button generates. It also saves on labour costs, since fewer staff are needed on the floor.
CustomerCall - queue-buster that stops walk-aways
CST's CustomerCall makes queue management for bars and restaurants quick and easy. Guests are given a pager when they arrive so they can relax in the bar with a drink. As soon as a table is ready, the pager discreetly buzzes and flashes to alert the customer. CustomerCall can effectively 'disguise' a queue for tables in a successful bar or restaurant; so potential walk-in customers are encouraged to stay instead of looking elsewhere.
For details freephone Call-Systems Technology on 0800 389 5642, email the company at sales @ call-systems.com or visit the CST website http://www.call-systems.com
Stand K81 and K88 - Restaurant Show 2008, Earls Court Two, London, October 6-8
Press Enquiries:
Toni Turner or Alison Haynes
The Publicity Works
Tel: 01263 761000
Email: cst @ publicityworks.biz
Ashley Sheppard
Call-Systems Technology
020 8381 1338
Separations charge enquiries:
offers are ONLY accepted by fax on 01263 761009.
###