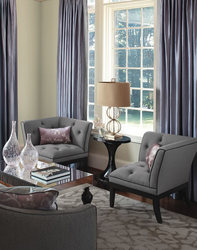 Reds enliven a room--and now they're equally strong in blue-based crimson and yellow-based spice market reds
Kennett Square, PA (Vocus) September 15, 2008
Color movement in home décor is evolutionary, not revolutionary, as in the fashion world. Although color shifts occur more slowly, the wheel does turn. So what are the newest trends? While blue remains a constant for interiors, the robin's egg blues that have dominated home furnishings fabrics for five years are on decline. Orange is yielding to yellow. Greens are becoming bluer--and blues are overtaking green. Gray and charcoal are looking fresh, especially combined with yellow, lavender or bright accent color fabrics. The news on hues in home furnishings comes from Jan Jessup, spokesperson for Calico Corners - Calico Home. Jessup also chairs the Color Marketing Group's Consumer Colors Current committee that forecasts and tracks color changes for the design community.
Cool Blue and Hot Mocha
"Browns are moving to mocha shades and being paired with raspberry pink, wasabi green and powder blue fabrics," says Jessup. Cool pale blue fabrics are still popular, and spirited blues are adding depth and life to neutral furniture. "These blues are more vibrant than navy and marry beautifully with both white and linen colors," adds Jessup. "Because Calico Corners - Calico Home buys fabrics from more than 200 vendors all over the world, we sit in the catbird seat when it comes to color and design trends."
Yellow Rising
While shades of orange have been the top trend color in home décor fabrics the past two years, yellow is a classic. This season yellow shines when paired with gray, taupe, and as a sunny accent for black and white. Balance is critical when adding yellow--too much black with yellow can have the visual appeal of a road sign and be jarring. How to add yellow? Mix in a bright mohair throw, add forsythia yellow silk or faux suede pillows, make golden yellow shams or add a lightweight quilted silk duvet, folded at the end of the bed. f you love yellow, walls painted in buttery shades look wonderful in morning light in kitchens and bedrooms. In dining rooms, stronger yellows glow at night, lit by candles and lamplight, creating a warm backdrop for a handsome wood table and chairs.
Lavender and Purple Are Back
The return of purple and lavender in home fabrics is another way to give a room a fresh face. These colors are especially appealing in lustrous silk fabrics or rich velvets--and they add a little glamour to interiors when paired with pale gray, cream, flax or key lime fabrics. Pair deeper purples and burgundy shades with olive greens and Flemish golds when decorating living rooms, family rooms, libraries and home offices--rooms where dark woods might be used in cabinetry and case pieces.
Greens Add Eco-Energy
Green has been a reigning color for home furnishings fabrics--nurtured by eco-awareness and environmental movements. "Yellowed greens have been most prominent, often paired with brown in a rainforest combo," notes Jessup. "But now green is moving toward blue. Cool emerald greens and teals are also reappearing in the interior palette." Green is incredibly neutral, and it can "settle in" with practically any other color. Fresh herbal greens are soothing and work well in combination with each other. Mix them up to add energy to a room.
Red Ahead
And what about red, a shade that can range from the intensity of Cherries-in-the-Snow lipstick to a toned-down neutral? "Reds enliven a room--and now they're equally strong in blue-based crimson and yellow-based spice market reds," states Jessup. Reds are also getting a lot of media exposure this year from the Beijing Olympics and the American election. But how best to use reds in home decorating? The late great designer Mark Hampton loved red walls in entrance halls, dining rooms and libraries. Red fabrics work with so many other colors and is often found in oriental rugs, kilims or textiles that may be used in these rooms. And what is lovelier with flowers, linens and candlelight than rich reds and corals?
Red is a bold color--and if red is used on a large upholstered piece, the frame must be fabulous because it will then dominate the room. Fashion divas Diana Vreeland and Elsa Schiaparelli used many shades of red together--crimson, claret, lacquer red and cranberry red--to create rooms that were both comforting and bold. Red works best as a nighttime color with lots of lamplight and candles aflame. Where not to use red? In the bedroom--and only sparingly in the kitchen, perhaps in accessories.
Metallics Shine
Metallics in gold wash, silver leaf, bronze and copper have been a strong trend in furniture finishes in recent years. Now they are being used to add subtle shimmer to fabrics for the home, often woven with linen or cotton yarns to contrast. "Today's metallics aren't about 'bling,' but have just a touch of glam for visual interest," notes Jessup. "They make wonderful window treatments, as metallic filaments catch light. They're also good for tableskirts, bed ensembles or pillows." Take-home embroidered pillows with metallic yarns, mirrored tables and silver or gold wash accents for the home are featured in the new accessories program at Calico Corners - Calico Home, and help a room shine.
Calico Corners - Calico Home stores provide expert decorating advice and in-home
design consultation in more than 100 stores across the country. Consumers will find thousands of designer fabrics for the home at value prices; window treatments, blinds, and shades; custom upholstered furniture, plus rugs, lamps, decorative accents and more. Thousands of fabrics are available online. For more information or to find the nearest store, visit http://www.CalicoCorners.com or call (800) 213-6366.
Contact:
Jan Jessup
(610) 444-9700, Ext. 262
publicrelations@calicocorners.com
###