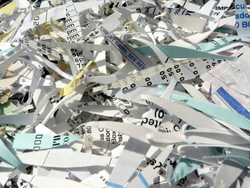 Lakewood, Colorado (PRWEB) September 16, 2008
Today Sales Star Networks announced the milestone of 50,000 businesses that have used Shred Nations® for their paper shredding service needs. Shred Nations is the leading source for paper shredding solutions on the internet. Shred Nations offers service through a network of 512 shredding locations.
These 50,000 businesses represent millions of identities that were protected from identity theft rings. Crime rings employ addicts to dumpster dive for personal information. The most credit worthy identities are used for fraudulent credit purchases.
The secondary benefit of using Shred Nations is that all of the paper shredded is recycled into new paper. The paper recovered from these businesses represents 637,500 trees that were not cut down. This also prevented 123,750 cubic yards of landfill space according to American Forest & Paper Association numbers.
Shred Nations offers a range of shredding services. The most popular solutions include their mobile shredding trucks and secure pickup service. Shred Nations also pioneered the first shredding service for homes. Their Ship 'n' Shred service (http://www.shipnshred.com) uses FedEx to securely transport documents to regional shredding centers. This service brings business class security and convenience to the home owner.
Shred Nations is just one of the sourcing solutions offered to businesses by Sales Star Networks of Lakewood, Colorado. Sales Star Networks has grown to help service providers reach new customers in an age when display and direct advertising are becoming more expensive and less effective. Sales Star Network uses intercept marketing to uncover businesses actively searching for a service and connecting them with a local provider. Others include accountants, document scanning and storage, debt collection, web design and lawyers.
###