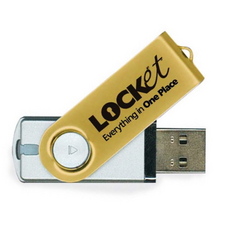 consumers need to be aware of and educated on the most secure way to store very private and vital information - and they need to turn to the experts.
New Berlin, WI (PRWEB) September 14, 2008
What web-based information storage services and Locket®, a portable USB flashdrive, have in common is that both are easy to use and more practical than old-school manual filing systems, which can be a challenge to keep organized and up-to-date. But the similarities end there, because "At the heart of the issue," explains Bob Milosch, president of Locket, "is whether or not any information on the Internet is completely 100 percent secure, even with extensive security measures in place."
In fact, US Bank Wells Fargo touts that all account information on its product, called vSafe, is encrypted when exiting the user's computer and enters the system at the bank. The institution also offers additional security devices.
"With identity theft topping the list of the Federal Trade Commission's top consumer fraud complaints again for the seventh year in a row in 2007," Milosch cautions, "consumers need to be aware of and educated on the most secure way to store very private and vital information - and they need to turn to the experts."
Locket was carefully designed with one critical top benefit in mind - to be a self-contained portable program that is completely safe. All of the data and commands needed to operate Locket are securely stored on the flashdrive. When you need to move fast, you simply have to grab and go with your Locket. You can view, add, change, and print your information securely -- from any computer -- without an Internet connection.
Judy Nowak of Milwaukee, WI, is a Locket user and says that what attracted her most to the device was that it is practical -- and secure, especially with the ever-increasing threat of ID theft. "I like knowing that Locket is the one secure spot that I can put everything that I wouldn't want outsiders to know - and they can't get into it," she says.
Also for security purposes, Nowak uses different user names and passwords to gain access to a variety of online resources. "Locket's websites and passwords feature has been a lifesaver. I go into that screen, link to a particular site - and my user and password information is safe, all in one place, and right at my fingertips," she explains.
Locket is designed to be intuitive and user-friendly even for those with the most basic computer skills. The initial log-on screens will walk you through the process of creating your password. Once your password is set, and encrypted (or matched to your flashdrive), you can immediately begin using Locket.
"While banking services like vSafe promote the integration with a customer's online banking services, it just makes better sense to trust the experts that have put their product through rigorous R&D to ensure complete security," Milosch concludes. "Locket allows users to store a variety of documents, including financial statements, in a truly electronically secure and portable device."
About Locket:
Locket is the one place to keep all of your vital facts and information. Locket keeps personal medical records, financial statements, emergency contact information, and other vital facts that you will need in the time of an emergency. If you choose, you can also store copies of your favorite photos, journals, and recipes that are priceless keepsakes. Locket helps you document your life and create a legacy for your family.
In case of identity theft, Locket files provide the details necessary to make quick contact with your most trusted resources and all of your accounts. The alternatives are competitor products that may not be as secure or portable, outdated manual systems that are impractical, or being completely unprepared - and frantically searching for the minute details of your accounts and resources, which can demand hours of your time and is extremely frustrating under a stressful situation.
In a natural disaster, like a fire or flood, Locket is a useful tool, too. The American Red Cross recommends every family prepare for disasters before they strike by building a disaster supply kit. They should include water, food, tools and medication, as well as important family documents. Locket keeps those documents safe and secure on its flashdrive - so you can grab it and go. Locket offers the same features and benefits in the event of a personal disaster, including the death of a loved one.
As a business-to-business promotional tool, Locket's packaging and Homebase program screens can be customized with a logo or company name and contact information to build customer loyalty.
Members of the media can contact Lisa Deppe at 888.562.5385 or email at: ldeppe @ locketpro.com.
Locket can be found on the Internet at: http://www.lockethome.com.
###