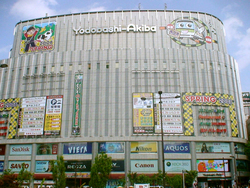 if it ain't broken, fix it anyway
Tokyo, Japan (PRWEB) September 16, 2008
Scala, the leading provider of end-to-end solutions for the connected signage market, today announced Tokyo's largest retail consumer electronics store enhances its customer experience with YodobiTV Network.
While many companies may consider themselves forward-looking, Tokyo-based Yodobashi Camera Co. Ltd. brings a whole new meaning to the concept. Yodobashi's strategy is to continuously upgrade its store marketing in preparation for future business, even when times are good. In other words, the company has turned the well-known saying "if it ain't broken, don't fix it" on its head. Yodobashi's approach is: "if it ain't broken, fix it anyway". And that is why the company decided to reconsider the customer experience throughout their stores.
Since its founding in 1960, Yodobashi Camera has expanded from a specialist camera store into a large consumer electronics enterprise with an ever-widening product range that includes PCs, office automation equipment, digital and film cameras, audio and video equipment, electric appliances for the home, watches, communications equipment, and computer games and software. With over $6.7 billion in sales revenues from 20 locations around the country, about one-third of the revenue is generated from their flagship stores, Akihabara in Tokyo and Umeda in Osaka. While Akihabara gets more attention because it is in Tokyo, the Umeda store has slightly higher revenues; the two stores are the top retail stores in Japan in customer traffic and number of visitors.
To present a better customer experience, Yodobashi Camera, with the help of Vanten - a Scala Certified Partner, conceived YodobiTV, a digital information network that would: provide a medium for advertisers to target customers at the point of sale; provide a solution to enhance the display of timely promotions throughout the store; be visually in sync with printed POP materials and respond to changes in the marketing strategy that could change in as little as 24 hours. To represent Yodobashi Camera's high tech, quality image, content on YodobiTV must be high-definition and high production quality.
The solution to Yodobashi's requirement for a YodobiTV was the deployment of Vanten's EngageMedia digital signage solution based on Scala InfoChannel. Positioned at strategic locations in the store, 46" LCD screens, in portrait mode, are deployed encompassing high traffic areas of the store. Content, managed and provided by Vanten, is coordinated with the existing EngageMedia system running the outdoor 10m x 3m LED Yodobashi-vision screen. This coordination ensures the message is consistent throughout the store. Coordination between the in-store network and the outdoor screen allows Yodobashi to make real-time changes to accommodate in-store promotions.
The pilot in Akihabara has proven to be a great success and plans are already underway to expand YodobiTV to Umeda in Osaka.
The goal of enhancing the customer experience has been attained with such benefits as:

Promotions can be instantly announced from the push of a cell phone button
Database content such as top ranking sales items by category, new PCs, new products, store features are sync'd with outdoor LED and require no extra overhead operations
Commercial creative content run variations based on weather - more air conditioner ads on hot days, more dehumidifier ads on rainy days
YodobiTV can leverage the rich pool of content that was created for Yodobashi-vision operations over the past two years.
Advertisers are very excited about this new media and ads were sold out at launch.
"Yodobashi and Vanten are setting a new standard for in-store media with YodobiTV," says Neil van Wouw, CEO of Vanten K.K. "The power of Scala InfoChannel together with EngageMedia is an unbeatable combination."
About Yodobashi
Yodobashi camera was founded in 1960 and has grown to a giant consumer electronics retailer with over ¥700 billion ($6.7 billion USD) in revenues. With the help of 3,450 employees, Yodobashi manages over 800,000 registered items (SKUs) consisting of PCs, OA equipment, audio-video equipment, cameras, home appliances, watches, communication devices, digital cameras, game consoles and software, etc. Yodobashi has stores in Shinjuku, Akihabara, Ueno, Kinshicho, Machida, Hachioji, Kawasaki, Yokohama, Kichijyoji, Kami-Ooka, Chiba, Utsunomiya, Niigata, Kooriyama, Sendai, Sapporo, Osaka and Hakata. More information is available at http://www.yodobashi.com http://www.yodobashi.com.
About Scala
Scala is a leading global provider of digital signage and advertising management solutions. By combining digital and traditional signage systems, Scala has become the world's first connected signage company, offering the leading platform for content creation, management and distribution in digital signage networks, and the first unified platform for advertising management of both traditional and digital signage networks. The company's solutions are used in retail, education, entertainment, government and other industries for diverse applications such as retail advertising networks, corporate communications (employee TV), traditional and digital billboards, digital menu boards, digital posters, cable TV, hotel lobby signage, gas pump toppers, outdoor advertising, interactive kiosks, etc. Scala pioneered the digital signage industry and today drives over 200,000 screens worldwide; more screens than all competitors combined. The company's digital signage customers include Rabobank, IKEA, Burger King, T-Mobile, Virgin MegaStore, EuroDisney, McDonalds, Warner Brothers, The Life Channel, Rikstoto, FuelCast, Repsol, Shell, NorgesGruppen and thousands more. Advertising management customers include CBS Outdoor, Clear Channel Outdoor, Magic Media, Reagan, Adams Outdoor Advertising, among others. Scala is headquartered near Philadelphia, USA and has subsidiaries in Canada, Netherlands, France, Norway, Japan and also over 450 partners in more than 60 countries. More information is available at http://www.scala.com.
©2008 Scala, Inc. 350 Eagleview Blvd. Exton, PA 19341. Scala, InfoChannel, and the Exclamation Point Logo are registered trademarks of Scala, Inc. All other trademarks are the property of their respective organizations.
###