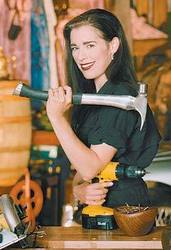 Toronto, ON (PRWEB) September 14, 2008
When you find yourself standing in front of a blank wall holding only a roller and a can of paint, your decorating instincts are often not enough to rely on for a professional wall painting job. The Home Renovation Guide knows we could all use some extra help when it comes to home improvements, so the premier online resource has partnered with Mag Ruffman and her ToolGirl site to present free home improvement videos that can be accessed by everyone, at any time.
Mag Ruffman is a television producer, writer and actress, known for appearing on Road to Avonlea and hosting home improvement shows A Repair to Remember and Anything I Can Do. Having worked as a licensed contractor for years, Mag's trademark wit and philosophy that it's perfectly natural to make mistakes has won her a loyal following. She recently wrote a book of do-it-yourself projects entitled "How Hard Can It Be?" and her syndicated home improvement projects column, ToolGirl, is hugely popular in newspapers across the continent.
In the new Video Library section of the Home Renovation Guide, Mag Ruffman's videos are featured in full, complete with descriptive text and product information. Ranging from learning how to wash windows the way the professionals do to jump-starting your car without cables, the videos cover every home improvement topic imaginable. Paired with Mag's down-to-earth approach and personable presentation, homeowners will feel armed with the tools to face any problem around the home!
The Video Library is just one of the many new sections on the Home Renovation Guide. PhotoShare, a complete album-sharing tool that allows users to upload photos of their homes and comment on others' pictures, launched at the beginning of September to great result. The Home Shows section has arrived just in time for the seasonal events that are sweeping cities across North America, with information about when they're taking place, where they will be and how to purchase tickets online.
The directory of home improvement professionals on the Home Renovation Guide is growing everyday, covering all of the areas of the home, along with an Ask the Expert section that allows homeowners to submit queries and get personal responses from those in the know. Don't forget to sign up for the monthly newsletter, where Mag Ruffman will be providing tips delivered right to your inbox! Visit the Home Renovation Guide today to experience the complete home improvement resource online.
###