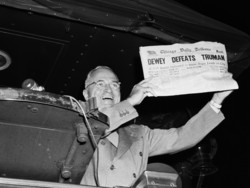 New York (PRWEB) September 15, 2008
With the Democratic and Republican National Conventions over, and the race for the White House heating up, History™ and Bio have added new content to their Elections Web sites. History.com/uselections and Bio.com/elections highlight past and present elections for U.S. President, including information on Senators John McCain (R-AZ) and Barack Obama (D-IL), their respective running mates Alaska Governor Sarah Palin and Delaware Senator Joe Biden, videos explaining the elections process, historical looks at campaign advertisements and more.
"With the campaign to elect the next President of the United States generating unprecedented interest from people across the country and around the world, both History.com and Bio.com have launched dedicated websites designed to serve as the central destinations for everything you always wanted to know about American elections past and present. We have created content-rich interactive features that provide historical context as well as current information on the candidates geared to satisfy both the seasoned political junkie and the elementary school student learning about elections for the first time," said Doug Halsey, Sr. Director, History.com.
In fact, according to a study by the Pew Internet and American Life Project, 24% of Americans learn about the Presidential campaigns from the Internet, compared with 9% in 2000 and 13% in 2004 and including 42% of those aged 18-29.
Long recognized as trusted sources of information online, both History.com and Bio.com are now featuring the Presidential elections, with new content being added to the sites leading into Election Day on November 4.
Content being featured on History.com's 'History of the U.S. Presidential Elections' mini-site (http://www.history.com/uselections) includes:

How Does it Work? - An in-depth look at the Electoral College.
Did You Know? - Interesting trivia and little known facts.
Most Memorable Elections - Information on the 2000 (Bush/Gore), 1960 (Kennedy/Nixon), 1948 (Truman/Dewey), 1888 (Harrison/Cleveland) and 1824 (Adams/Jackson) elections.
A Funny Thing Happened on the Way to the White House - A short-form video series featuring interviews with political campaign insiders.
The Vote 101 - An educational, short-form video series on the elections process, including the Electoral College, voting technology, inauguration, the transfer of power and primaries, caucuses and conventions.
Campaign Spots - Famous television campaign advertisements from 1940 to 1976, from "The Truth About Taxes" - a 1940 short film put together by the Wendell Willkie campaign (opposing Franklin D. Roosevelt) - to Walter Mondale's famous "Red Phone" ad.
Audio Speeches from the campaign trail and more.
Between now and Election Day, visitors to Bio.com's 'Race to the White House' mini-site (http://www.bio.com/elections) will find:

Meet the Candidates - Profiles of all the Democratic and Republican candidates to date including detailed articles with full biographies of Barack Obama and John McCain, as well as information on where each stands on key issues, election videos, photo galleries and more.
Interactive Map of Key Dates and Primary/Caucus Results
Special features Six Degrees of Barack Obama & John McCain, Election Process for Dummies and So You Want to Be President?
Additional content, including photos and profiles of vice presidential candidates Joe Biden and Sarah Palin and potential first ladies Michelle Obama and Cindy McCain, bios of all past U.S. Presidents, a classroom study guide, discussion boards and more.
About Bio
At Bio, we prove that the truth about people is always more entertaining than fiction. Bio is about real people and their real lives: up close and personal, gritty and provocative, always unfiltered. Bio original series uncover the real drama in people stories: everyday situations with a twist; celebrities going off-script; people-centric crime stories and paranormal events. In addition to being the exclusive home to the Emmy-Award winning Biography® series, the dynamic blend of original and acquired series on Bio includes Final 24, Psychic Investigators and the upcoming William Shatner hosted talk show, Shatner's Raw Nerve. The 24-hour network is now available in more than 47 million households. The Bio Web site is located at http://www.bio.com.
About History
History™ and History HD™ are leading destinations for revealing, award-winning original non-fiction series and event-driven specials that connect history with viewers in an informative, immersive and entertaining manner across multiple platforms. Programming covers a diverse variety of historical genres ranging from military history to contemporary history, technology to natural history, as well as science, archaeology and pop culture. Among the network's program offerings are hit series such as Ax Men, Battle 360, The Universe, Cities of The Underworld and Ice Road Truckers, as well as acclaimed specials including King, Life After People, 1968 with Tom Brokaw, Lost Book of Nostradamus, Star Wars: The Legacy Revealed and Sherman's March. History has earned four Peabody Awards, three Primetime Emmy® Awards, 10 News & Documentary Emmy® Awards and received the prestigious Governor's Award from the Academy of Television Arts & Sciences for the network's Save Our History® campaign dedicated to historic preservation and history education. Take a Veteran to School Day is the network's latest initiative connecting America's schools and communities with veterans from all wars. History's website, located at http://www.History.com, is the definitive historical online source that delivers entertaining and informative content featuring broadband video, interactive timelines, maps, games, podcasts and more.
###