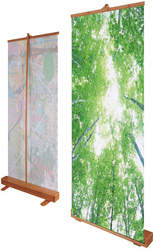 Irvine, Calif. (PRWEB) September 15, 2008
Red Exhibits Inc., developer and distributor of portable display products, has announced the release of its newest product - the Bamboo range of banner stands. The Bamboo range is a new green line of products from Red Exhibits, one of many provided by the company.
Red Exhibits Bamboo range of products are made from bamboo, a renewable resource, that is as beautiful as it is durable, and it is loaded with environmentally friendly printed graphics.
Our rain forests are as rich in beauty as that are bountiful in the life forms they sustain. With your purchase of a Bamboo product, Red Exhibits will make a donation to the Arbor Day Foundation to rescue 2500 square feet of rainforest, and the habitat it protects. The Arbor Day foundation is a nonprofit, conservation and education organization of nearly one million members, with a mission to inspire people to plant, nurture, and celebrate trees.
Such an offer further exemplifies Red Exhibits' commitment to providing reliable products at a low price including our commitment to save the environment.
For more information about Red Exhibits Inc. or its products, please contact Ben Ketslakh, Senior Account Manager, at (888) RED-1118 or ben.k@redexhibits.com.
###