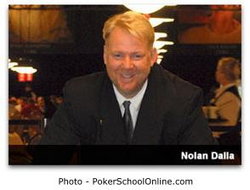 Gambling is the greatest metaphor of life. Whether in gambling or life -- I find that the harder you work, the better your chance of success.
Las Vegas, NV (PRWEB) September 16, 2008
In an exclusive interview on WomensPokerYak.net, Nolan Dalla, World Series of Poker's Media Relations Director, talks with podcast host Dianna Donofrio about his journey to the world of Poker and then shares his thoughts of the 2008 WSOP final table being delayed till November and the thoughts of the famed "November Nine" who will be playing. In every other Poker tournament, the entire tournament is played straight through to the end. When it was decided that the final table of the World Series would be delayed 4 months, Poker players everywhere were asking why. Dalla answers the question.
Donofrio, with her love of poker and people, engages Dalla as he reveals his path from politics to poker. His political life started in Washington, DC with the State Department, on to the American Embassy in Bucharest, Romania witnessing the fall of Dictator Nicolae Ceausescu, and then back to DC working for the Turkish Embassy.
Dalla reflects on his early years at the University of Texas, playing poker and betting sports, using his winnings to help pay for his education. It was there he earned a degree in Political Science, followed by a Masters Degree program in Public Policy Administration at UT-Arlington. He then moved on to Washington, DC and worked on the staff for a U.S. Senate committee. Sitting behind a desk and playing the administrative role was not to be a part of his future life style. He was looking for something more exciting ... and poker was the answer. The people and the players were interesting to Dalla. He found that poker was more than just a game. It is a lifestyle and a lifestyle to which he gives profound dedication. Dalla takes great pride in his role of the Media Relations Director for the World Series of Poker (http://www.worldseriesofpoker.com). Dalla believes "Gambling is the greatest metaphor of life. Whether in gambling or life -- I find that the harder you work, the better your chance of success."
Dalla knew that when Chris Moneymaker won the World Series of Poker Main Event, poker would forever be changed and change it did. Poker exploded and so did the World Series of Poker. Dalla's career as a poker writer began in 1994 when he started writing for Card Player. His column "Tales from the Felt" quickly became one of the most popular columns. Over the years, Dalla has written hundreds of columns -- and many of them on poker strategy. He has also written for The Intelligent Gambler and many gambling-related websites. In December 2001, Nolan began his association with Poker Digest. He is also the lead sports gambling columnist for Casino Player magazine. Dalla contributed a chapter to the popular Lou Kreiger book, Poker for Dummies. He additionally created poker's "Player of the Year" Tournament Rankings, using a mathematical rating system he devised which is now used all over the world. Dalla has authored several books: One of a Kind, The Rise & Fall of Stuey "The Kid" Ungar and The Man Behind the Shades.
Dianna Donofrio is President of PokerGivingBack and an executive with DGHoldings, a company that has an interest in the gaming industry. Donofrio brings her talents, knowledge and poker friends to her listening audience. Formerly on the staffs of US Senator Birch Bayh, Gov. Matthew Welsh and ombudsman to former Mayor Russell G. Lloyd (all of Indiana), she now devotes her time, passion, and energy to organizing Poker Charity Events, playing poker and podcasting on http://www.WomensPokerYak.net, one of the many channels on Yaktivate.com. Regarding having Nolan Dalla as her guest in this podcast, Donofrio says, "Nolan and I have been friends for ages and when Nolan shared his thoughts about the delay of the Final Table, I was honored."
Donofrio also announces that WomensPokerYak is now being sponsored by DOingPoker and looks forward to her listeners checking out the exciting fun and new free-playing poker site.
Podcast listeners will soon be able to enjoy listening to these future guests on Donofrio's podcast show, WomensPokerYak: Lisa Tenner, owner Tenner & Associates and co-owner Card Player Cruises; Leo & Ivy Chu, owners of Hollywood Park Casino; Jamie Gold (when he gets back to the states); "Dutch" Boyd, professional poker player; plus Susie Isaac, two time WSOP Ladies Champion.
Yaktivate.com is an internet marketing organization and global media network that features podcasts on channels that reflect a wide range of topics -- from politics to health to Poker and beyond. Yaktivate.com is always on the lookout for new podcasting talent and for businesses that are seeking an effective and cost-effective manner to reach their niche marketing audience.
###