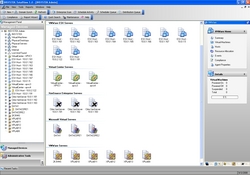 Topeka, KS (PRWEB) September 12, 2008
INSYSTEK, a leader in virtualization management is announcing it will demonstrate INSYSTEK TotalView, its cross hypervisor virtualization management solution. TotalView delivers true centralized cross hypervisor virtual and physical management, automation, optimization to IT environments. Our integrated guest management is designed to be a seamless feature set, not just an add-on. With its agentless architecture TotalView is a secure and scalable solution, making management simpler, enabling the use of embedded hypervisors and requirements of corporate security effectively, and not complicating it with agent sprawl.
TotalView allows administrators to easily create, deploy and manage their virtual and physical infrastructures. It is a powerful management framework to consolidate the many administrative functions required for virtual infrastructure management. The TotalView solution simplifies virtualization deployments, enabling IT organizations to manage and control enterprise business continuity while reducing cost. TotalView is the single management console that brings together VM management, inventory, performance, alerting, reporting, guest management, remote control, software distribution and much more.
Virtual Machine Management
TotalView VM management provides hypervisor agnostic support for all major hypervisor technologies, including Microsoft Virtual Server, VMware ESX, ESXi and Server as well as Citrix Xen Server. TotalView integrates with hypervisor management APIs to deliver power management, inventory, rapid provisioning with deployment wizard and virtual machine templates reducing the time and effort for creating and deploying Virtual machines regardless of which hypervisors you choose.
Guest Management
TotalView is the agentless inventory, software distribution and performance monitoring solution for the corporate Windows environment, delivering extensive data on all installed hardware and software components on the remote system. Deploy full applications, security updates and more. Determine license compliance status, software usage, software tracking. Monitor servers and desktops for real-time performance and availability data.
Performance Monitoring
TotalView provides real time performance and availability monitoring for servers, desktops, hosts and guests. Real time monitoring data is retrieved, processed, and stored in a central data repository for historical reporting and analysis. Assets can be monitored individually or grouped, utilizing user-defined collections. Capabilities including utilization graphs of CPU and memory provide performance data of physical servers, and the virtual machines they are running. Customize alerts that trigger notifications via email, or messages.
What about a TotalView Agent?
TotalView is a secure scalable management solution, no agents allowed!
Agentless, Scalable and Reliable
Manage thousands of physical and virtual assets in your environment from a single easy to use console. TotalView does not require an agent or client on the remote system or guests, enabling rapid deployment with a non-invasive approach to managing your environment. Enhanced system security, quick and easy upgrades, ease-of-maintenance, superior scalability and solution stability are just some of the benefits our Agentless solutions provide.
VMWorld 2008 Promotion
In addition to product demonstrations, INSYSTEK will randomly select (2) prospective customers to receive a full enterprise wide TotalView license for a one-year period. We will post the daily winners on our website at http://www.insystek.com at the end the show. This is a sales promotion and you must verify company credentials to be eligible. Support will be included for a 90 day period after initial installation.
About INSYSTEK
INSYSTEK® represents a focused approach to providing a unified scalable management technology to integrate the management of physical and virtual environments from industry leading virtualization software vendors (VMWare ESXi, VMware ESX, VMware Virtual Server, Citrix XenServer, Microsoft Virtual Server R2 and Hyper-V) in order to create an environment where hundreds and thousands of virtual servers and desktops can be supported and managed not only from the hypervisor level , but a deep dive technology capable of manage hypervisor, guest operating systems, application, user and security with no line between vendor specific solutions or the physical and virtual realms. As Virtualization adoption evolves, unified management technology is a necessity not an option.
Current hypervisor management solutions are focused on providing management of their specific platforms. The adoption virtualization technologies have consolidated IT services back to the datacenters. We now have the ability to consolidate an entire IT infrastructure, servers, routers, desktops, applications and security into a single virtualized solution accessible from anywhere in the world. What has failed to follow, up until INSYSTEK® TotalView, is the consolidation and integration of the tools needed to manage this consolidated solution. Visit http://www.insystek.com for more information. INSYSTEK's solutions will be available for demonstration at booth # 862 at VMWorld 2008, Sept. 15-18, Las Vegas..
SOURCE: INSYSTEK
###