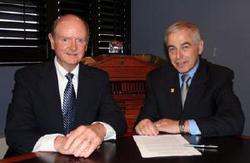 Olin College has one of the most innovative programs in the design and implementation of a creative engineering curriculum appropriate to our times, and we're happy to partner with them
Urbana, IL (PRWEB) September 16, 2008
Representatives from one of the world's newest and most innovative engineering colleges and one of the largest and strongest research powerhouses are joining together to help transform engineering education. Richard K. Miller, president of the Franklin W. Olin College of Engineering, and Richard H. Herman, chancellor of the University of Illinois, have signed a memorandum of understanding that creates the Olin-Illinois Partnership (OIP) agreeing to work together "to improve engineering education in matters such as content, curriculum, pedagogy, and organizational change."
"Too often academic institutions work in isolation, but the pivotal role of engineering education in a technological age, and the challenges of accelerating times demand a more collaborative approach, and today Olin and Illinois have taken an important first step along that path," Chancellor Herman remarked.
Although the schools are very different in age, size, and mission, the arrangement combines the complementary strengths of the two institutions in a way that should benefit engineering education around the world. Olin was founded with a primary mission of reforming undergraduate engineering in 1997 through a substantial gift from the F.W. Olin Foundation, and its doors opened to its inaugural class of first-year students in 2002.
The College of Engineering at Illinois continues to be one of the top-ranked engineering programs in the nation. Its 12 departments and 15 degree programs cover the full range of engineering disciplines. Established in 1870, Engineering at Illinois provides its 5,500-plus undergraduates with a broad base of science and fundamentals as well as specialized training and research within the various disciplines.
"The study of engineering and technology from the philosophical, historical, cultural, behavioral, and sociological perspectives is essential to address important contemporary problems at the interface of technology and society," explained Ilesanmi Adesida, dean of the College of Engineering. "Although we have been extraordinarily successful at educating students to become the best engineers in the world, we must continually adapt, to strengthen the creative capacity of our students and to preserve their strong technical skills while emphasizing the elements of design, entrepreneurship, and social responsibility.
"Olin College has one of the most innovative programs in the design and implementation of a creative engineering curriculum appropriate to our times, and we're happy to partner with them," Adesida added.
"Illinois is to be commended for embarking on a serious initiative to demonstrate scalable innovation at a large land-grant school," Miller stated. "Olin has pioneered many innovations in its multi-disciplinary, project-based engineering curriculum, but we still don't know how widely applicable these reforms are. Through this partnership, Olin and Illinois will be able to explore how to diffuse innovation more broadly throughout the engineering education community. The partnership is a true collaboration, offering Illinois access to Olin's unique educational Petri dish, and offering faculty and students at Olin special access to Illinois' quality researchers and facilities, recognized as among the best in the world."
Located in Needham, Massachusetts, Olin College is an undergraduate engineering school with an enrollment of 300 students, and it is considered a model for a new kind of engineering education. Every admitted student receives a full-tuition scholarship. The school has no traditional academic departments, and does not offer tenure to its faculty. The curriculum emphasizes design through hands-on projects throughout the four-year curriculum and it is built around the "Olin Triangle," a combination of rigorous science and engineering fundamentals, entrepreneurship, and the liberal arts.
The challenges of scaling such innovations to larger, established programs is a daunting one. To address these difficulties in a systematic, creative matter, Adesida recently announced the establishment of the Illinois Foundry for Innovation in Engineering Education or iFoundry, as a collaborative, interdepartmental curriculum incubator, where volunteer faculty and students from many departments will come together to plan, test, and execute the engineering curricula of the future.
In addition to the Olin-Illinois Partnership, the two institutions have also agreed to work together to assemble a national and international open-source alliance of schools interested in curriculum transformation appropriate to the 21st century. This effort, called the Alliance for Promoting Innovation in Engineering Education (aPIE2), is intended "to form a large, trusted, grassroots network of institutions committed to the transformation of engineering education through the open sharing of best practices, content, curriculum, pedagogical materials and student-learning outcomes data."
###