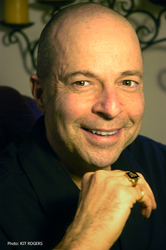 This is not theory, this is not motivational
Las Vegas, NV (PRWEB) September 16, 2008
For anyone looking at the road -- or the crossroad---leading to or changing careers, there hovers the question "Now what?"
Paul Carpino, M.A., a Career Counselor currently inspiring students at the University of Nevada Las Vegas, endeavors to answer that by providing guidance in an innovative form. In his unique book "Now, Launch Your Career", he has researched, compiled and edited personal advice letters from top names in business, education, science, entertainment, arts/design, finance, real estate and many more. This collective wisdom has been synthesized into a book by "career curator" Carpino.
Some of the most recognizable names in his book are master builder Donald Trump, shoe designer Manolo Blahnik, doctor/professional clown Patch Adams, film critic Rex Reed, fitness expert Richard Simmons. Readers will be especially familiar with celebrity chef Mario Batali, cartoonist Jim Davis and comedian Jeff Foxworthy. Their stories are in the company of others whose careers range from monastic abbot to pastry chef, from hypnotherapist to funeral director. Other careers explored are in the fields of retail, entertainment, real estate, securities, art, photography, and geology, to name just a few in this wide span of 42 responses.
"Now, Launch Your Career" began as a research project for grad school when Carpino was a student at Chapman University in Phoenix. Seeking real world research, he sent letters to successful people asking them three simple questions:
1) What do you like about your career?
2) What don't you like about your career?
3) How did you decide on, or break into your career?
As Carpino received responses, the project took on a 5-year life of its own- and his thesis was finished, with his own career counseling advice contribution.
Something about Carpino's message spoke to people at high levels, causing them to respond. He humbly asked for support and it worked! The answers came back in many forms -- some were hand-written letters (Thomas W. Dibblee Jr., credited with mapping the geology of California). Some were meditative in tone while others were briskly businesslike. But all of the responses had something to say.
"This is not theory, this is not motivational," maintains Carpino. "This is real world advice. Career truths." Each letter is followed by a bio of the writer, some of which relay a fascinating career trajectory. Mario Batali, for example, was urged by his parents to go to cooking school but initially resisted, wanting to be a businessman. Now he is a master chef for restaurants where many businessmen enjoy the results of his career reconsideration.
Among the notable entrepreneurs is Cordia Harrington, self-described as "the Bun Lady." Harrington was a McDonald's franchisee who discovered a need to streamline the bun-baking process. Now she is CEO of the Tennessee Bun Company, supplying McDonald's and other restaurants.
Some respondents knew from the start what they wanted to do. Robert B. McKnight, Jr, founder of Quiksilver athletic apparel, was at heart a surfer, selling board shorts out of the back of his Volkswagen on the California coast. He rode that wave, making a living from the surfing culture lifestyle with Quiksilver. Now he is the Chairman of the Board (and, it could be said, Chairman of the Surfboard!)
Carpino, who included himself in his interviews, worked for a decade in telecommunications and corporate marketing before his aptitude for helping others was applied to career counseling. In the past eight years of doing that he has seen a lot of people looking for or changing career paths. Surveying the guidance given by the contributors in his book, he says,
"It worked for them. Is it going to work for you? It could. What's in this book is do-able."
Readers of "Now, Launch Your Career" can explore fulfilling, rewarding and interesting careers through personal advice from those who have created such careers. These people have been propelled -- by fate, family, or even by fluke -- toward something that has been the making of them. They are now in a position of success, and in many cases they are also famous. There is a delight in reading letters from household names who share their answers to these three simple -- and highly illuminating---questions posed by Paul Carpino.
"Now, Launch Your Career" is available in soft-cover. The cost is $17.95. It can be ordered by visiting iUniverse
###