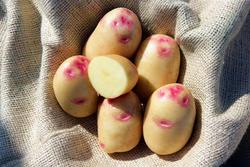 Many of the all-rounder potato varieties currently on the market tend to have a rather floury texture
(Vocus) September 15, 2008
There's a new breed of potato in the shops that's aiming to be the very best of British. Called Vales Sovereign, it has the classic large oval shape, with attractive red blushes to the skin. However, what sets it apart are its flavour and versatility. An outstanding 'all rounder', Vales Sovereign works well in all potato recipes and is especially good mashed or baked in the jacket. Vales Sovereign has the creamy taste and soft, velvety texture that made classic British varieties like King Edward and Maris Piper the nation's favourites - even plain boiled it tastes delicious, making it a great meal ingredient for weight watchers.
What's more, it's been bred to be more environmentally friendly than other varieties, requiring less water and less fertiliser - so growing Vales Sovereign can reduce the potato grower's carbon footprint.
Vales Sovereign was bred by the Scottish Crop Research Institute (SCRI), developed by Greenvale AP, the UK's largest supplier of fresh potatoes, and is available in Tesco stores. The nationwide launch follows successful commercial trials last year, where it performed very well in taste panels and sold strongly in test stores.
"Many of the all-rounder potato varieties currently on the market tend to have a rather floury texture," says Paul Edwards, Business Development Manager of Greenvale. "We've bred Vales Sovereign to combine the best of British - the texture and creamy flavour that put the 'Great' in British potato recipes."
So why do we need a new spud? While Vales Sovereign is bred from several British varieties, it is most similar in appearance to the classic King Edward - hence its name's regal reference. For consumers, Vales Sovereign represents a more versatile and tastier potato than its predecessors.
But it's also been developed for the UK farmers and growers: Vales Sovereign is more resistant to diseases, doesn't bruise easily and always gives a high yield, regardless of weather conditions - hot, dry, cold or wet - an increasingly important attribute as the British climate becomes even more unpredictable. Because the new potato only needs half of the nitrogen fertilizer that most other varieties require, and much less irrigation, it's not only kinder to the environment but also cuts costs for the grower.
Another advantage with Vales Sovereigns is that it is naturally dormant during storage. This means it can be stored longer than many other varieties without needing refrigeration or artificial inhibitors to keep the potatoes from sprouting. Not only does this benefit the environment, it also cuts grower costs and gives consumers a long lasting supply of good quality, untreated potatoes.
Vales Sovereign is currently available in 1kg and 2kg packs from Tesco stores nationwide.
For more information visit the Greenvale AP website at http://www.greenvale.co.uk
Copy ends
Vales Sovereign Launch (4).doc – Sep-08
Editorial Enquiries:
Toni Turner or Alison Haynes at The Publicity Works
01263 761000 Email: greenvale@publicityworks.biz
Sue Gilbert, Marketing Manager, Greenvale AP, 01354 672019
Photography, market data, potato recipes and comment are available on request.
Separations charge enquiries: send offers by fax on 01263 761009 or email to seps@publicityworks.biz
All offers are considered. We will contact you if the answer is 'Yes'. Otherwise the answer is, regrettably, 'No'.
Editor's notes
Greenvale AP is the UK's leading supplier of fresh potatoes and was awarded the Queens Award for Innovation in 2006. Greenvale AP now supplies the UK's premier retailers, caterers and processing outlets with quality potatoes, meeting the high standards demanded by the UK market.
Greenvale AP has developed sites in the major potato growing areas across the UK, resulting in three state of the art potato-packing operations situated in Shropshire, Berwickshire and Cambridgeshire. The company also has sales and marketing offices across the UK, including in Norfolk, Suffolk, Somerset, Hereford and Yorkshire. Greenvale AP's Seed Potato operation is managed from a specialist office at Burrelton near Perth in Scotland.
###