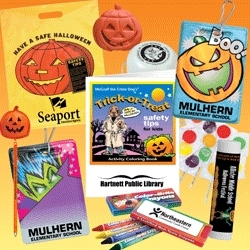 If you're going to give away Halloween treats anyway, why not treat your company to a little self-promotion
Lewiston, ME (PRWEB) September 17, 2008
Crestline Custom Imprinted Products, a direct marketing promotional products company that trades on its easy, customer-friendly ordering process, recently unveiled a new specialty store to help business and institutions capitalize on the upcoming Halloween holiday.
"Halloween is the second most profitable holiday season of the year for retailers. It's also a perfect opportunity to get your logo out there, by distributing custom imprinted promotional products," said Kim Beaudin, Crestline Product Manager.
Crestline's new Halloween store carries a wide variety of products, all of which can be personalized with a company's custom logo, art or message. Many products can be distributed to parents in the weeks leading up to Halloween to help promote safety. In addition to flashlights, glow-in-the-dark and reflective items, which ensure that little ghouls and goblins can be easily spotted in the dark, Crestline also offers coloring books and plastic treat bags printed with useful safety tips.
"Keeping kids safe is crucial during the Halloween holiday. Parents are sure to remember any company that helps them protect their children," said Beaudin.
Businesses can get their message into trick-or-treaters' homes via custom-wrapped candy, microwave popcorn and other food items. For those wishing to promote wellness, Crestline carries plenty of other fun giveaways that aren't edible, such as temporary tattoos, crayons, Halloween-themed pens and pencil topper, lip balm and more.
"If you're going to give away Halloween treats anyway, why not treat your company to a little self-promotion," said Beaudin.
About Crestline:
Crestline is a direct marketing company offering an extensive selection of reasonably priced, quality imprinted promotional products. Crestline's highest objective is to provide superior customer service, making the ordering process as straightforward and hassle-free for clients as possible. By utilizing several marketing channels, including printed catalogs, an outbound call center and an easily navigable interactive Web site, Crestline has become a one-stop destination for custom imprinted products. For more information, visit http://www.crestline.com
###