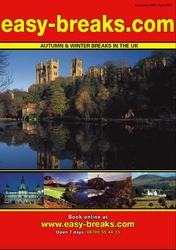 (PRWEB) September 18, 2008
Easy-breaks.com, Scotland's premier UK short breaks company, is celebrating the launch of its Autumn / Winter programme of self-drive holidays. Short Breaks are available from only £52 for 2 nights dinner, bed and breakfast with Christmas Offers starting from only £149 for 4 nights DBB..
The main vehicle for the promotion of these breaks is through the new autumn / winter brochure which has just been direct mailed to the UK wide easy-breaks.com consumer database; the brochure is also available digitally on the Web site and is distributed in response to customer enquiries.
Commenting on this programme of sales activity, Commercial Director, Jeremy Legg, said: "Autumn is traditionally a very busy holiday booking time for our customers and so we ensure that we have a great selection of breaks available for them. Our 44 page brochure features hotels from Thurso to Canterbury and features a brand new section on Northern Ireland. We have also included a bumper festive section within it with some fantastic value Christmas, Twixmas and New Year Breaks. In addition, there really is something for everyone with a great choice of short breaks including dinner dances, murder mystery, city breaks, all inclusive and even a sled-dog tour break in Grantown-on-Spey."
He added: "Our brochures have consistently delivered business for our hotel partners at the times when they want it and, more importantly, continue to deliver an excellent return on investment for them. The last brochure generated sales of over £2 million for our hotel partners in the UK. This is just one of a number of activities that we are currently working on which will increase customer choice and the exposure of the easy-breaks.com brand."
For further information please visit easy-breaks.com
###