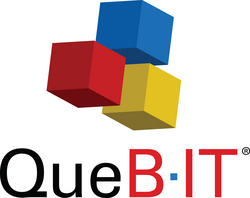 IncBizNet, Business Network for Private Companies
New York (PRWEB) September 17, 2008
Inc. today ranked QueBIT No. 1288 on its annual ranking of the 5000 fastest-growing private companies in the country. The list is the most comprehensive look at the most important segment of the economy - America's independent-minded entrepreneurs. Taken as a whole, these companies represent the backbone of the U.S. economy.
"This is the second year in a row that QueBIT has been recognized through the Inc. 5000 ranking," said QueBIT CEO Gary Quirke. "This is testimony to the fantastic efforts of the whole QueBIT Organization. We have made significant investments to support the growth our organization over the past four years. These investments have placed us in a strong position to benefit from the dramatic expansion of the Cognos Business Intelligence and Performance Management software markets that will be occurring over the next 5 years. Since the acquisition of Cognos by IBM in January this year, QueBIT has continued to build on our strengths, and we expect this to translate to accelerated growth over the years to come."
QueBIT is a leader in Performance Management consulting services for mid-to-enterprise level clients. Specializing in Cognos Planning , Cognos Business Intelligence, and Cognos TM1 throughout North America, QueBIT partners with clients to develop customized solutions that work. QueBIT utilizes best practices and the latest technologies to provide companies with efficient, easy-to-use solutions at exceptional value. To find out more information on how QueBIT can work with your organization to achieve results, please contact us at 1 800-QUEBIT1, email us at contact@quebit.com, or visit our website: http://www.quebit.com
The 5000 companies that made the list reported aggregate revenue of $185 billion and median three-year growth of 147 percent. Most important, the 2008 Inc. 5000 companies were engines of job growth, having created more than 826,033 jobs since those companies were founded. Complete results of the Inc. 5000, including company profiles and a list of the fastest-growing companies that can be sorted by industry and region can be found at http://www.inc5000.com.
Hottest Regions for Fastest-Growing Companies
The New York metro area tops the Inc. 5000 list with the most companies of any city with 355. Washington, D.C. comes in a close second with 300 companies on the list; Los Angeles comes in third with 244 companies, and Atlanta (194 companies) and Chicago (189 companies) round out the top five. Interestingly, only 62 companies on the Inc. 5000 are not based in metropolitan areas.
Grand Rapids, Mich. leads the list with the highest median revenue of any metro area ($26.2 million, 16 companies), followed by San Antonio, Texas ($21.3 million, 25 companies), Baton Rouge, La. ($18.8 million, 14 companies), Houston ($17.1 million, 97 companies), and Kansas City, Mo.-Kan. ($16.5 million, 39 companies).
Hottest Industries for Fastest-Growing Businesses
The most notable median growth categories among the Inc. 5000 fastest-growing businesses are in the Energy category (which grew by 298%), followed by Government Services (which grew by 220%), Security (200% growth), IT Services and Software (both grew by 187%), and Consulting (which grew by 182% on average).
The largest business category is IT Services, with 579 Inc. 5000 companies. Business Services (532 companies), Construction (459), Manufacturing (405), and Advertising & Marketing (361) complete the top five industries ranked on the 2008 Inc. 5000.
Industries reporting the highest median revenue are Travel ($38.8 million), Financial Services ($16.3 million), Logistics ($15.4 million) Government Services ($14.2 million), and Energy ($14.2 million).
Methodology
The 2008 Inc. 5000 list measures revenue growth from 2004 through 2007. To qualify, companies must be U.S.-based and privately held, independent - not subsidiaries or divisions of other companies - as of December 31, 2007, and have had at least $200,000 in revenue in 2004, and $2 million in 2007.
Companies can apply for next year's Inc. 5000 by registering with "IncBizNet, Business Network for Private Companies", at http://www.incbiznet.com.
About Inc.com Inc.com, the daily resource for entrepreneurs, delivers how-to guides, advice, tools, breaking news, and rich multi-media to help business owners and CEOs start, run, and grow their businesses. Inc.com offers dynamic marketing solutions to help advertisers effectively reach Inc.com's audience of business leaders. Visit http://www.inc.com.
About Inc. 500|Inc. 5000 Conference Each year, Inc. magazine and Inc.com celebrate the remarkable achievements of today's entrepreneurial superstars -- the privately held small businesses that drive our economy. The Inc. 500|Inc. 5000 Conference brings together members of the Inc. 5000 community--both a new class of Inc. 5000 honorees and the list's alumni--for three days of powerful networking, inspired learning, and momentous celebration. For the first time ever, this powerful networking event is open to all. Please join us September 18-20, 2008 at the Gaylord National Resort and Convention Center in Washington, D.C. For more information or to register, visit http://www.Inc500Conference.com or call us at 877-211-0489.
MEDIA CONTACT: Catherine Jirak: 646-515-8383 or cjirak(at)quebit.com for additional information
###