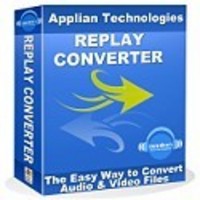 With our popular streaming video and audio recording products, we have developed the best tools on the market for capturing streaming media
San Anselmo, CA (PRWEB) September 16, 2008
Applian Technologies today officially released Replay Converter 3, a new video and audio file conversion program designed to give customers more choices in how to enjoy internet-based video and audio. Replay Converter offers several new functions all geared to making web files more portable while maintaining their original quality.
Replay Converter complements Applian's core technology of streaming video and audio recording products, which include Replay Media Catcher for video clips, Replay Music for streaming music. The program offers many pre-defined conversions to make it easy to use for novices, but also gives power-users the ability to specify custom frame rates, frame sizes, bit rates and other settings.
"With our popular streaming video and audio recording products, we have developed the best tools on the market for capturing streaming media," said Bill Dettering, CEO of Applian Technologies. "And now with Replay Converter 3.0, customers can easily turn their recorded web files into DVD's, copy their favorite videos to their iPod or iPhone, or make their own mash-up videos by importing them into Premiere, Final Cut, or any other popular video editor. Replay Converter works beautifully with all Flash Video and Windows Media files captured from the internet."
Replay Converter is available for a free trial download at http://www.Replay-Converter.com, and requires a Windows based PC or Macintosh running Parallels or Bootcamp.
About Applian Technologies
Applian Technologies was started by Bill Dettering in 2000 with the launch of Replay Radio, a program Bill created to combat the boredom of his long commute down to Silicon Valley. Replay Radio allowed Bill to record his favorite radio shows and listen whenever he wanted. Helping people get more enjoyment out of streaming media is what Applian Products are all about. Now, eight years after the launch of Replay Radio, Applian is recognized as the global leader in recording software. Other popular Applian products include the Replay Capture Suite, Replay A/V, Replay Music, Replay Media Catcher, Replay Screencast and At-Large Recorder, their Slingbox™ recorder. Learn more about Applian Technologies and all their products at http://www.Applian.com.
For more information about the Replay Converter please contact:
Leslie Bee
Director of Marketing
Applian Technologies
http://www.Applian.com
1-888-808-9877 ext. 4
###