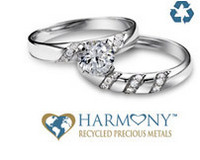 There is no difference between recycled metal and newly mined metal
Midlothian, VA (Vocus) September 16, 2008
The extensive collection of engagement rings and wedding rings offered by Danforth Diamond are now made from 100% recycled precious metals. Danforth Diamond partnered with jewelry manufacturer, Hoover & Strong, an industry leader in eco-friendly jewelry manufacturing and refining, to provide a green jewelry option to the marketplace.
As jewelers seek ways to be more eco-friendly and find alternatives to mining, recycling precious metals has become increasingly popular. With the slogan "Our jewelry is refined – not mined" Danforth Diamond emphasizes that while mining displaces earth and upsets the ecosystem of the area being mined, refining precious metals uses far fewer resources and has a lesser impact on the environment. "There is no difference between recycled metal and newly mined metal," states Jill Renee, president of Danforth Diamond. "Both offer the same quality, durability, and shine. I believe this isn't a trend; it's the new way of doing business. There is no reason why all jewelry can't be made from recycled material."
Harmony Recycled Precious Metals takes unwanted or damaged jewelry, shavings and metal lost during the jewelry manufacture and crafting processes, and scrap precious metals from industrial uses and recycles them. The metals are melted down to separate them – the precious metals are separated from alloys that were added to provide strength or shine – and then all are reused in the manufacturing of new "green" jewelry pieces or other items.
Approximately 90% of the products on the danforthdiamond.com site carry the Harmony Recycled Precious Metals designation.
Prompting their search for a jewelry manufacturer who uses recycled metals, Danforth received several emails from customers and comments on the Danforth Diamond Blog asking about recycled metal jewelry options. "The timing of those requests was uncanny and they confirmed a need for eco-friendly jewelry that wasn't being met," Jill Renee said.
The use of Harmony Recycled Precious Metals reiterates Danforth Diamond's commitment to people- and earth-friendly jewelry. They are a member of StopBloodDiamonds.org and are in compliance with the Kimberley Process Certification Scheme which certifies the origin of diamonds to make certain they are ethically sourced and conflict free.
Jill Renee added, "Danforth Diamond's commitment to our customers is to provide engagement jewelry pieces that are as socially and environmentally responsible as they are beautiful."
About Danforth Diamond
Danforth Diamond is a leading online jeweler known for their collection of diamond engagement rings and wedding bands. Look for the Harmony Recycled Precious Metals logo throughout the site to find eco-friendly jewelry. Visit Danforth Diamond online at danforthdiamond.com/eco-friendly-jewelry/ to learn more.
###