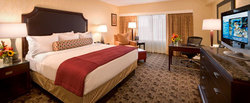 We are excited with the changes and delighted to bring new energy into downtown and the local economy
Lexington, KY (PRWEB) September 17, 2008
The Hyatt Regency Lexington hotel has completed renovation of 366 guestrooms as part of a $16.4 million update that started earlier this year.
Newly renovated accommodations at this elegant downtown Lexington luxury hotel include the Hyatt Grand Bed™ complete with a plush pillow-top mattress, a 32-inch flat panel HDTV, an iHome clock radio with iPod docking station and a state-of-the-art work center with ergonomic chair and high-speed Internet access. Guest bathrooms include an updated shower and a natural stone vanity. Photographs of the new rooms can be seen on the hotel's website at lexington.hyatt.com.
"We have received fantastic feedback from the business community and guests who are enjoying our new rooms," said Larry Bell, General Manager. "We encourage visitors staying in the Bluegrass Region to experience the comfort and upscale amenities of our newly renovated hotel."
The Procaccianti Group (TPG) purchased the Hyatt Regency Lexington in December 2006 from Goldman Sach's Whitehall Street Real Estate Fund and affiliates of Highgate Holdings. TPG announced a full renovation of this popular downtown Lexington hotel in early 2007. The design firm, JCJ Architects with offices in New York, Hartford and San Diego, is overseeing the complete transformation.
"We are excited with the changes and delighted to bring new energy into downtown and the local economy," said Bell. "Visitors and business travelers staying at the Hyatt will leave with a positive impression of this region and will look forward to returning."
For reservations at Hyatt Regency Lexington, call 1-800-233-1234 or visit lexington.hyatt.com.
About The Procaccianti Group (TPG):
The Procaccianti Group (TPG) is a second-generation, privately held real estate investment company that specializes in acquisition, renovation and management of investment real estate. TPG has owned or developed more than 20 million square feet of real estate valued at more than $6 billion.
The Procaccianti Group is one of the top five privately held hotel owner operators in the United States. For more information, visit http://www.procgroup.com.
About Global Hyatt Corporation:
Global Hyatt Corporation, headquartered in Chicago, is one of the world's premier hotel companies. The hotels owned, operated, managed or franchised by its subsidiaries provide authentic hospitality to guests in 45 countries through a passionate commitment to personalized service, cultural relevance, and the environment. Global Hyatt subsidiaries own, operate, manage or franchise more than 365 hotels and resorts worldwide under the Hyatt®, Hyatt Regency®, Hyatt Resorts™, Grand Hyatt®, Park Hyatt®, Hyatt Place®, Hyatt Summerfield Suites® and Andaz™ brands with additional properties under development on five continents. Global Hyatt Corporation is also the owner of Hyatt Vacation Ownership, Inc., operator of Hyatt Vacation Club®. The success of Global Hyatt is driven by the commitment and energy of the approximately 90,000 men and women around the world who provide exceptional service to hotel guests. From the U.S. and Canada, reservations for any Hyatt hotel worldwide may be obtained by calling 1-800-233-1234 or visiting http://www.hyatt.com.
###