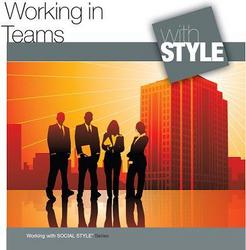 In our years of helping clients create productive teams, we've found that SOCIAL STYLE is a powerful tool for organizations seeking to improve their individual and organizational performance
Highlands Ranch, Colo. (PRWEB) September 17, 2008
The TRACOM Group announced the availability of "Working in Teams with STYLE" guide. The guide is the newest addition to TRACOM's popular series that teaches how to apply the SOCIAL STYLE Model to improve interpersonal skills in the workplace.
Nearly every organization relies on teams to achieve their business goals and many long-time SOCIAL STYLE users have found that applying Style improves team performance. The "Working in Teams with STYLE" guide will show users how to apply SOCIAL STYLE to:

Understand how people of different Styles operate in team environments;
Communicate with people of all Styles within a team;
Approach the most common team tasks;
Understand and manage team Style dynamics.
SOCIAL STYLE is the world's best-known model for interpersonal effectiveness. Colorado State University recently released research that identified TRACOM's SOCIAL STYLE model as easier to learn and correctly apply than competitors Myers-Briggs and DiSC.
"Reaction to the earlier Working with Style guides has been very positive," said David Collins, TRACOM vice president for Training Products. "Readers have found the guides provide hands-on advice for situations they face nearly everyday at work."
"Working in Teams with STYLE" provides specific advice to help teams form quickly, develop goals and achieve optimum performance. It includes special tips and techniques for team leaders to improve their own leadership and the performance of the team. It also offers advice on how to approach the most common tasks and functions of teams, such as running meetings and making decisions.
"In our years of helping clients create productive teams, we've found that SOCIAL STYLE is a powerful tool for organizations seeking to improve their individual and organizational performance," said John Dickkut, president of Boardroom Partners, a management consulting firm based in Longmont, Colo. "The Working in Teams with STYLE guide is an easy-to-use resource to reinforce SOCIAL STYLE and make teams become more effective."
All three "Working with STYLE" guides, including "Managing Conflict With Style" and "Coaching With Style" published earlier this year, work as a self-study resource or can easily be integrated into existing team development, coaching or conflict programs. The retail price for each guide is $45. Excerpts of all three guides can be downloaded at: http://www.tracomcorp.com/products_services/social_style/working-with-style-guides.html
To learn more about TRACOM products and for additional information and research on the impact of SOCIAL STYLE on performance, visit http://www.tracomcorp.com or call 303-265-6105.
About the TRACOM Group
For nearly 50 years, The TRACOM Group has helped individuals and organizations improve workplace performance by building interpersonal skills, improving teamwork and developing leaders. TRACOM offers measurement-based learning models, courses, surveys, assessment tools and consulting services. Much of TRACOM's work is based on the Social Style Model(TM), a proven model for effective work and personal relationships. TRACOM is a division of Reed Business Information.
Media Contact:
Adriana Saldana
Fisher Vista, LLC / HRmarketer.com
831-722-9910
asaldana(at)hrmarketer.com
This press release was distributed through eMediawire by Human Resources Marketer (HR Marketer: http://www.HRmarketer.com) on behalf of the company listed above.
###