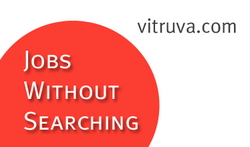 Vitruva recognized the problem of a single-score system, which is currently used by a majority of job matching Web sites
Waltham, MA (PRWEB) September 16, 2008
Career site Vitruva, Inc. today released a new, reliable online job matching system. Vitruva's approach overcomes the fundamental problem that has hindered the accuracy of online job matching systems. Vitruva's system is the first to guarantee that the best qualified candidates are never missed.
The accuracy problem of today's job matching Web sites is rooted in representing the match by only a single score, which lumps together two very different criteria. The first criterion is qualification requirements, such as specific job skills and training. The second criterion is personal preferences, such as geographic location and compensation.
"Vitruva recognized the problem of a single-score system, which is currently used by a majority of job matching Web sites," said Jindrich Liska, chief executive officer and founder of Vitruva. "Lumping qualifications and preferences in a single score can produce unpredictable results. The preferences can compensate for lack of skills, so more qualified candidates often score below less qualified candidates or are missed altogether."
Vitruva solved the flaw of the single-score system with its patent pending double-score system that accurately represents each job match with two scores. The first "qualification score" shows the fit between the job seeker's qualifications and the specified job requirements, regardless of stated preferences. The score guarantees that the best qualified candidates are never missed. The second "total score" uses personal preferences to further refine the matching results.
Furthermore, Vitruva's double-score system does not require job seekers or recruiters to spend time re-running different matching scenarios, like they would with single-score systems. Instead, Vitruva presents job seekers with all jobs they qualify for ranked by both job qualifications and personal preferences. Users can quickly select and act upon the ranked list of opportunities without second guessing whether salary, location or other preference changes would provide better results.
"Our dual-score system is the first to deliver the ultimate job search results to job seekers and recruiters alike - complete job market transparency without any search effort on the user side," said Liska.
About Vitruva
Vitruva is a leader in semantic job matching technology. Vitruva's patent pending system powers its second-generation career website, which accurately connects job candidates with job opportunities. Job candidates are notified, in real-time, of job opportunities that precisely fit their unique skills, work experience and work preferences without having to spend time searching for opportunities. For employers and recruiters, Vitruva offers an intelligent and powerful talent-sourcing system that instantly and efficiently identifies highly qualified candidates. The company was founded in 2006, with headquarters in Waltham, Massachusetts. For more information, please visit http://www.vitruva.com.
Media contact:
Adriana Saldana
Fisher Vista, LLC / HRmarketer.com
831-722-9910
asaldana(at)hrmarketer.com
This press release was distributed through eMediawire by Human Resources Marketer (HR Marketer: http://www.HRmarketer.com) on behalf of the company listed above.
###