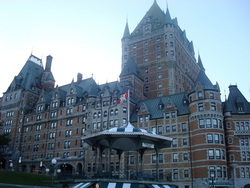 San Francisco, CA (PRWEB) September 17, 2008
Most North American travelers dream of reaching Europe with its ancient castles, cobblestone streets and irresistible cuisine, but in today's economy, a European vacation is out of reach for most. According to Amy Graff of http://www.OntheGoWithAmy.com, a travel site for globetrotters, there are ways to recreate the European experience closer to home.
Amy suggests that every traveler looking to add a European twist to their vacation should keep in mind a few pointers during their travels, such as:

Sample traditional cuisine - even though you might not be in Spain, eating tapas on a vacation makes you feel as if you are there
Sleep like a local - seek out hotels that aren't the standard cookie-cutter variety. Best Western is a great example - each hotel has its own theme and motif that reflects local charm
Take a walk - channel your inner European traveler and wander aimlessly down streets taking in all the sights and sounds of a new place
Amy also recommends the following destinations for travelers hoping to catch a European vibe on their next vacation.
Instead of Denmark, try Solvang, Calif.
The old Danish colony of Solvang northwest of Santa Barbara brings Danish charm and offers visitors endless traditional treats such as the cinnamon Danish at Olsen's Bakery, the apple strudel at Mortensen's, and the aebleskiver (puffy dough balls smeared with strawberry jam) at the Solvang Restaurant. Once visitors have indulged in pastries, they can head to The Hans Christian Andersen Museum, a display on the life and work of the Danish author, and Cachuma Lake, where they can hop on a bird-watching cruise.
Try San Miguel de Allende, Mexico for a taste of Spain
The 16th-century colonial town of San Miguel de Allende, Mexico is a bit of Spain in North America. A little less than an hour from Queretaro International Airport, San Miguel has been free from Spanish rule since 1810 yet still feels like a Pyrenees village with Gothic-style churches, plazas draped in bougainvillea and narrow cobblestone streets. Around the El Jardín Principal, the central square, visitors shop for artisan boutiques selling handmade pottery and dine on tapas and paella. A few miles outside of town, visit Santuario de Atotonilco, a church built in 1746 for religious pilgrimages and hot springs such as Agua Magica and La Gruta.
For a German feel, try Leavenworth, Wash.
Travelers who love Germany will feel at home in the Bavarian village of Leavenworth, Wash., which is tucked in the Cascade Mountains, 120 miles east of Seattle. Oompah bands and yodeling accordion players are regulars at the town's Front Street Park gazebo. Andreas Keller Restaurant and Munchen Haus serve bratwurst and heffeweisen to relaxing vacationers. Visitors should also pay a visit to the Nutcracker Museum, Cuckoo Clock shop, and the Gingerbread Factory.
Evoke London in Victoria, British Columbia
In Victoria, British Columbia, a former outpost of the British Empire, visitors can sip tea at the turreted Fairmont Empress Hotel, catch a play at the Royal Theatre, and nosh on fish and chips, made with fresh Halibut from B.C. waters at Garrick's Head Pub. Walking downtown, visitors find themselves on streets lined with lampposts, flower baskets, and buildings that evoke the very feeling of being in London. North of Victoria, Buchart Garden's 55 flowery acres and Craigdarroch Castle's 39 rooms filled with lavish Victorian-era furnishings are two great sightseeing options.
Experience Paris in Quebec City
While Paris boasts the Eiffel Tower, visitors to Quebec City are greeted by the majestic Castle Frontenac, which sits above Old Quebec and overlooks the St. Lawrence River. Have fun practicing your French as you tour the historic French-speaking city, which celebrates its 400th anniversary in 2008. Stroll along Quebec City's cobblestone streets and take in the 17th- and 18th-century architecture. Wander up picturesque rue du Petit-Champlain to climb the Breakneck Staircase for views of Old Town. For dinner, enjoy authentic French-Canadian cuisine at Aux Anciens Canadiens, which was constructed in 1675 and was the home of author Philippe-Aubert de Gaspé, who lived here from 1815 to 1824.
ABOUT ONTHEGOWITHAMY.COM
http://www.OnTheGoWithAmy.com was created to celebrate the joys of travel and everything that goes with it - from flat tires and screaming children in the backseat to an amazing view of the New York skyline at the top the Empire State Building. Seasoned travel expert and journalist Amy Graff takes readers on the road with her husband and two children, her girlfriends and sometimes alone. Amy posts stories, pictures and videos from her family adventures, as well as helpful and unique tips she's picked up after traveling the world with her family.
ABOUT AMY GRAFF
With more than a dozen years of experience as a travel editor and writer, Amy most recently served as a senior editor at VIA, a travel magazine that reaches more than three million members of the American Automobile Association. Prior, she was a contributor to Bay Area regional lifestyle magazines including Diablo and San Francisco. In addition to serving as a contributing columnist for Best Western, Amy writes for Sunset Custom Publishing and serves as the community manager for the San Francisco Chronicle's new parenting site, Bay Area Moms, for which she writes The Mommy Files blog.
ABOUT BEST WESTERN INTERNATIONAL
Best Western International is THE WORLD'S LARGEST HOTEL CHAIN®, providing marketing, reservations and operational support to over 4,000* independently owned and operated member hotels in 80* countries and territories worldwide. An industry pioneer since 1946, Best Western has grown into an iconic brand that hosts 400,000* worldwide guests each night. Best Western's diverse property portfolio, its greatest strength, stems from a business model designed to give owners maximum flexibility to address market-specific needs. Equally committed to the business and leisure traveler, Best Western recently embarked on a five-year mission to lead the hotel industry in customer care. Since 2004, Best Western has served as the Official Hotel of NASCAR®. For more information or to make a reservation, please visit http://www.bestwestern.com.
*Numbers are approximate and can fluctuate.
# # #