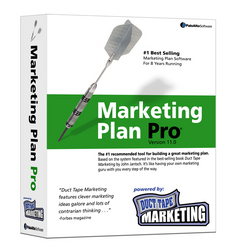 It's been exciting watching my Duct Tape Marketing system go from blog to book to software. Merging my system with Palo Alto Software's Marketing Plan Pro software will make this methodology available to anyone wanting to see their business succeed
Eugene, OR (PRWEB) September 18, 2008
Palo Alto Software, in partnership with John Jantsch of Duct Tape Marketing, recently announced the release of Marketing Plan Pro powered by Duct Tape Marketing. This completely new, re-designed marketing plan software showcases the award-winning Duct Tape Marketing system, now built into a powerful tool that guides users through the process of creating a powerful marketing action plan and helps them successfully grow their businesses.
Marketing is a system, not an event, and Duct Tape Marketing offers a systematic approach to marketing that is as elegantly simple as that sticky and trustworthy roll of duct tape. The Duct Tape Marketing system, developed by renowned small-business marketing guru John Jantsch, shows customers how to develop and execute marketing plans that will give businesses life and longevity. Jantsch also narrates audio introductions for each of the major topics for step-by-step coaching.
Small businesses often struggle with marketing strategies and how to translate them into an action plan that will actually grow their sales numbers. Marketing Plan Pro powered by Duct Tape Marketing will give any business a clear plan to start working from and get them started on creating a winning marketing strategy in just 30 minutes. This new version of Marketing Plan Pro will help:

Build your marketing vision to identify your business goals and measure your progress.
Identify your remarkable difference and help figure out how you stack up against your competition.
Find your customers
Forecast sales and budget expenses
"It's been exciting watching my Duct Tape Marketing system go from blog to book to software. Merging my system with Palo Alto Software's Marketing Plan Pro software will make this methodology available to anyone wanting to see their business succeed," says John Jantsch. "The 30-minute plan will allow anyone to get from plan to action immediately."
"Working with John Jantsch to bring Marketing Plan Pro powered by Duct Tape Marketing to market has been a great experience for Palo Alto Software," says Sabrina Parsons, CEO of Palo Alto Software. "Our Marketing Plan Pro software still employs the core elements that have always made it a great value--including the step-by-step approach that guides users seamlessly through the process of creating a marketing plan that will be immediately available for use and get results. Palo Alto Software's collaboration with John Jantsch and the Duct Tape Marketing system will be nothing short of remarkable for new and repeat customers, and we are very proud to bring this product to market."
To learn more about Marketing Plan Pro powered by Duct Tape Marketing, visit the Palo Alto Software website at http://www.paloalto.com.
*For credentialed press inquiries: Evaluation copies of the software are available for review. To get a download link and serial number, please email mediarelations @ paloalto. CD versions of the software are also available upon request.
# # #