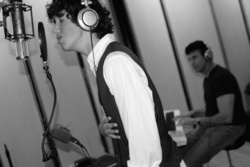 We want talent that will be around in 25 years, the next Icon.
Beverly Hills, CA (PRWEB) September 17, 2008
Michael Cammarata, Cammarata Management (CMI) signs Tyler Shamy after executives spend 3 days in Orlando with 16-year-old up-and-coming actor, singer/songwriter and actor's family. Michael Cammarata, successful Media entrepreneur says, "Tyler has proven consistently, that he has star appeal. We wanted to assess his raw talent…" Cammarata Management went to the same Orlando recording studio where *N SYNC and Backstreet Boys recorded their record-breaking albums. During the trip, Tyler and his father, writer Ed Shamy Jr., re-recorded "You", which will soon be released
While the music industry is leaving no stone unturned looking for any opportunity for generate revenue, Cammarata Management is signing talent like Tyler, young, tested and proven. Earlier this Summer Cammarata announced that the company signed James Killgallon who is sponsored by Gibson/Baldwin and Josh Coloumbe (Also a Gibson signed Bassist). Josh Coloumbe is touring with Lennon in Europe this fall. "We want real talent. Talent that will be around in 25 years…This fall we will build a foundation and dedicate resources to spotlight Tyler's talents. He has already impressed and has begun working with the best writers and producers in the business". Tyler has phenomenal business savvy for a 16 year old. He is multi-talented. Tyler has a booming acting career in addition to his raw music ability. This year Tyler has succeeded in becoming a featured artist on the Disney Music Incubator as well as landing roles in the new Wayan Brothers Movie titled "Snowflake", soap operas like General Hospital, and hit sitcoms such as "Two and a Half Men". He is also working on voice over projects for the animated cartoon network. "Tyler is the real deal", says Michael Cammarata.
Michael Cammarata, the Founder of Cammarata Management, has a strong position in several emerging market niches. Michael also owns Cammarata Holdings, Inc., a company that last year delivered over 6.7 billion ad impressions on average each month and in 2008 will achieve over 10 billion a month. CMI and Michael's Internet/Media companies effectively monitors and monetizes traditional and online-sales, by leveraging its robust technology, media solutions and reaches millions music and celebrity enthusiasts. ."We want talent that will be around in 25 years, the next Icon." Says Michael Cammarata. "We are looking for the next music legend. We are also taking recognized talent to the next level by monetizing emerging new technology."
Sales generated from new material performed by rock and pop stars are nowhere near the 500,000 unit sales needed for RIAA certified gold-record status. This is critical for a talent to achieve success in the music business. CMI is signing well known and sought after talent creating a hybrid approach for musicians and actors so they may realize more results from the new technologies. This approach is unique in that it provides the talent with the ability to generate income above and beyond traditional means.. The approach will provide them with an ongoing revenue source. Cammarata Management currently works with and is in negotiations to develop partnerships with established film and music distribution partners worldwide.
Cammarata Management
Contact: Richard
Phone: 866.606.1484
Email: Richard @ cammaratamanagement.com
Tyler Shamy - Myspace
http://www.myspace.com/tylershamy
###