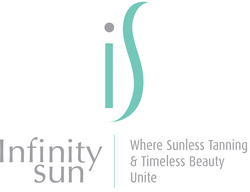 We are very excited to be working with GBK and DPA on this year's EMMYS suites
Los Angeles, CA (PRWEB) September 17, 2008
Infinity Sun has been invited to provide their signature custom-blended spray tanning treatments at two of the most prestigious gifting suites in Hollywood, GBK and DPA, to help the nominees and presenters look and feel their red carpet best for the annual EMMYs awards being aired on September 21, 2008.
The DPA suite will be held at the beautiful Luxe Hotel in Beverly Hills from September 18-20, where three top skin care and tanning specialist will be applying the Infinity Sun treatments, including HB Skin Spa, MetropoliTan & Melrose Beach Tanning.
HB Skin Spa based in Orange county has been transforming ordinary into extraordinary since 1988. Owner Samantha Land has a great understanding and love for skincare that ultimately led her to Infinity Sun, her first choice for sunless tanning in her spa. Samantha will be on site at the DPA lounge to introduce and educate on all things Infinity Sun and assist each celebrity with a full body tanning experience.
MetropoliTan, LA's mobile tanning service which exclusively uses the one and only Infinity Sun's multiple tanning and body nourishing treatments will also be at the Luxe to accommodate each celebrity guest with a flawless tan for the big event.
Melrose Beach tanning of LA has been tanning clients since 1987 with the very latest in premium tanning and skin care technology. They provide the perfect combination of state-of-the-art equipment and friendly expertise in an upscale and relaxing setting.
On September 18th & 19th, GBK's Lounge will be held at the Mondrian Hotel in West Hollywood and will host Sunset Tan, who will be providing Infinity Sun spray tanning services. Additionally, they will be providing gift bags including gift certificates for custom blended Infinity Sun spray tans at several of their locations and through the Sunset Tan Mobile Division in home service.
Both GBK and DPA are famous in Hollywood and abroad for High-End gifting suites. GBK Productions is a fundraising & special events company that is dedicated to giving high quality, tailor-made service to its individual clients and is well known for integrating the Entertainment & Non-Profit industries to create unique and memorable high-profile National & International Events that maximize its clients fundraising efforts. This years event, the 'Giving Suite' benefiting Global Green, Jumpstart and Save the ta-tas, will be offering its guests the opportunity to walk away with gifts totaling over $35,000 while indulging in on-site spa treatments. One lucky celebrity will also walk away with a $40,000 custom made pool table for their charity of choice.
DPA and founder Nathalie Dubois have become an intricate part of almost every major award show or film festival worldwide. Originally from France, Nathalie attributes her success in part to her world travels and the exotic cultural influences of the products she picks for her unique gifting suites. This year's suite is being designed by the prestigious Madison West Interiors who is focusing on creating a vibrant sophisticated environment with an edgy creative vibe.
"We are very excited to be working with GBK and DPA on this year's EMMYS suites," said Veronique Munro, Founder of Infinity Sun, sunless expert and celebrity spray tanner. "Having the opportunity to make every presenter and nominee look and feel great for this very special event, while honoring their contribution to the world of entertainment is a real privilege."
Miss Munro's work has been featured on a host of popular shows such as "Entourage", Style Network's "Style Scenes", E! Entertainment's Academy awards "48 hour Make-Over" and Dr. 90210, "Millionaire Matchmaker" in addition to being the featured sunless tanning technology on E! Entertainments hit show, "Sunset Tan".
Infinity Sun, the system that combines two of the fastest growing industry segments: sunless tanning and anti-aging skincare is available at many upscale salons, day spas, med spas and other health and beauty related businesses nationwide, including Sunset Tan locations.
For product information and locations offering Infinity Sun, please call 323.782.1049 or visit http://www.infinitysun.com
###