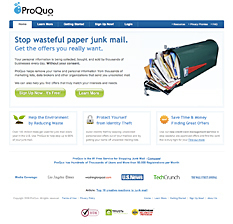 BBB has a long track record as a consumer protection organization, and identity theft and fraud is a serious assault on consumers
San Diego, CA (PRWEB) September 17, 2008 -
ProQuo™ Inc., a company founded to give consumers meaningful choice over how businesses use their personal information, today announced it has joined with the Council of Better Business Bureaus to help sponsor "Secure Your ID" Day on Sept. 20, 2008, in nearly 90 communities nationwide. This community service campaign will provide consumers and small businesses with free on-site document shredding, expert identity protection advice, and substantive solutions to add to consumers' identity protection mix.
"More than 8 million consumers fell victim to identity theft last year, at a cost of $45 billion to the economy*," said Steven Gal, CEO of ProQuo. "ProQuo provides a free, easy way for consumers to better control their personal information and reduce their exposure to identity theft. We are proud to partner with the BBB to raise awareness and help consumers fight back."
ProQuo provides a free web site that enables consumers to stop paper junk mail and gain control over how businesses use their personal information. Using ProQuo, consumers can remove their name from thousands of marketing lists, while stopping the type of unwanted personalized offers that identity thieves love to target. With hundreds of thousands of users, ProQuo is the No. 1 free web site for stopping junk mail and limiting how much marketers know about consumers.
BBB's first "Secure Your ID" Day, held earlier this year, simultaneously served 54 communities across the U.S. and Canada. More than 500,000 pounds of sensitive documents were responsibly disposed of, making it the largest single-day event of its kind ever held. For the upcoming event, BBB has expanded on-site services and expanded the number of community sites to nearly 90. BBB leaders expect the Sept. 20 event to exceed the previous record.
"BBB has a long track record as a consumer protection organization, and identity theft and fraud is a serious assault on consumers," said Steve Cole, president and CEO, Council of Better Business Bureaus. "Consumers are really their own best line of defense. They hold the power over their own protection more than they may realize and we're here to show them how."
Participants are encouraged to bring up to three boxes or bags of documents to be shredded and are asked to remove all documents from binders. For more information on the event, including specific details on event locations across North America, visit: http://www.us.bbb.org/secureID. For more information on how ProQuo can help consumers better protect their identity, please visit http://www.proquo.com/bbb.
"Using ProQuo is one of the easiest things consumers can do to help proactively protect themselves against key aspects of identity theft," said Jay Foley, executive director of the Identity Theft Resource Center. "By helping limit the electronic distribution of personal data to many marketers, ProQuo reduces the exposure associated with potential data breaches by these marketers. It also cuts down on 'pre-approved' credit card offers and other personalized mailings that identity thieves look for. Thank you to BBB and ProQuo for putting together this important event."
About BBB
BBB is an unbiased non-profit organization that sets and upholds high standards for fair and honest business behavior. Businesses that earn BBB accreditation contractually agree and adhere to the organization's high standards of ethical business behavior. BBB provides objective advice, free business BBB Reliability ReportsTM and charity BBB Wise Giving ReportsTM, and educational information on topics affecting marketplace trust. To further promote trust, BBB also offers complaint and dispute resolution support for consumers and businesses when there is difference in viewpoints. The first BBB was founded in 1912. Today, 125 BBBs serve communities across the U.S. and Canada, evaluating and monitoring nearly 4 million local and national businesses and charities. Please visit http://www.bbb.org for more information about BBB.
About ProQuo, Inc.
ProQuo was founded to put consumers in control of their personal information, letting them decide if and how businesses use it. ProQuo helps consumers stop the junk mail they don't want and get the offers they really do want. The company is led by pioneers in the online security and privacy arena and has served hundreds of thousands of consumers since launching in October 2007. For more information, visit http://www.proquo.com/bbb

Javelin Strategy and Research, 2008
For Information Contact:
Chad Darwin, PainePR
cdarwin@painepr.com
(213) 996-3776
Steve Cox, Council of Better Business Bureaus
(703) 276-0100
ProQuo is a trademark of ProQuo, Inc.
###