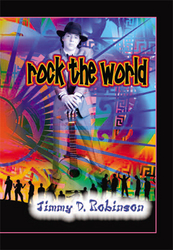 No matter how bad one's circumstance or station in life, hope is what sets us free. It is only through hope that we can rise above the pain and find love, music, and freedom
Los Angeles, CA (PRWEB) September 17, 2008
After the release of thirteen contemporary poetry books, American poet and lyricist Jimmy D. Robinson releases his fourteenth work entitled 'Rock the World.' In Robinson's latest collection of modern poems, readers will be uplifted and filled with delight as the words and phrases reach out with a positive new world consciousness. Robinson hopes that through his enlightening word artistry, he can inspire gratitude and appreciation for the earth, which is so abundant and giving to all of its inhabitants.
"In 'Rock the World,' as in life, hope does spring eternal. As long as there is hope, there is life," states Robinson. "No matter how bad one's circumstance or station in life, hope is what sets us free. It is only through hope that we can rise above the pain and find love, music, and freedom"
'Rock the World' touches the reader's heart and encourages an appreciatioin of the human spirit. The rich poetic phrasing and deep awareness reflects the spirituality of Jimmy D. Robinson and his lust for life, happiness and love. The book's poems delve into the celebration of success. 'Rock the World' heartens those with heavy burdens who must overcome great hardships. Following is an excerpt from Robinson's 'Rock the World' poetry book:
There I Am
There I am
Everyday
There is a
Whisper
That follows
The sun
For every star
Life begins
Underneath the sky
Music begins
To take away
The loneliness
On top of
Every mountain
A soldier cries
For freedom
Today will
Today is
Every dream
I hold
Shall stand
Higher
Than an angel
Whose smiles
Brighten this sand
There I am
Again
Again
Again
'Rock the World' is currently available at Barnes and Noble and will soon be found online everywhere books are sold including Amazon.com and BN.com.
As a lyricist and producer, Jimmy D. Robinson's music starts with writing the books of poetry, which draw from his rich inspiring life story. Robinson's lead poetry track, 'A Tiny Shoe,' from MIND JUICE, his recently released spoken word CD, has been turned into a dance floor remix package. The 'A Tiny Shoe' remix package includes world-renowned producers DJ Tracy Young, Josh Harris and Bruno Linares. These musical geniuses have been instrumental in producing and remixing for the biggest names in the business including Madonna, Stevie Nicks, Gloria & Emilio Estefan, Alannis Morrisette and Cyndi Lauper. The "A Tiny Shoe" dance remix package will be shipping to clubs everywhere and become available for purchase this month. The remix project will soon be available at Perfectbeat.com, Masterbeat.com and Best Buy as well as other online and retail outlets.
Robinson's MIND JUICE CD and 'A Tiny Shoe' remix package are currently submitted for Grammy Award nomination consideration. MIND JUICE is currently available at Best Buy and will soon be available everywhere music is sold. To listen to a sample of MIND JUICE, please visit http://www.youtube.com/watch?v=RTcAJeiQcnA to hear poetry track 'A Tiny Shoe.'
About Jimmy D. Robinson
Full of despair, destitute, and homeless, Jimmy D. Robinson began creating descriptive sentences in his mind and then penning them on scraps of paper or anything he could find. Much of the poetry in his books was written during these times. Gazing at the moon, the stars, the clouds, the sun, searching for anything that would give him hope--hope to live, to overcome, and to triumph. It can be said that poetry saved Mr. Robinson's life for when he began writing, he was overwhelmed with feelings that he hadn't experienced in a long time. Poetry made him reflect and look inward and gradually, he found the more he wrote, the better he felt. It was never his intention to be a poet, he just did what came naturally. By publishing his books, Jimmy Robinson wants his readers to know that no matter what depths one can sink to, there is always a chance for change. His came in the form of the written word, for others it may be another creative force, but be assured that in every living human being there is always a chance to hope and to change.
Robinson's works have earned him a sterling reputation in the world of publishing and music. Widely recognized as one of today's most prolific writers, Robinson's poems, musical stories, and lyrics reflect the hardships he has endured and the triumphs overcoming them. Penning his words with stark reality--writing of the human condition--loneliness, love, desperation, and hope, Robinson uses his craft to convey his celebration of life. For several years, Robinson's highly praised poetry books have been gifted to presenters and nominees at the Grammy Awards, the Radio Music Awards, the American Music Awards, and the Latin Grammy Awards. Robinson's book and music collection is often distributed to children in U.S. school systems as well as those in high crime areas, prisons and shelters. His works have been donated to many people as far as Africa and across the continent of South America. For more information please visit: http://www.jimmydrobinson.com and http://www.atlasbooks.com/jimmyland.
For Media Inquiries:
Jim Strzalkowski
MEDIA GIANTS
jimstraz@aol.com
(310) 860-6205 Phone
(323) 363-5094 Mobile
http://www.mgiants.com
###