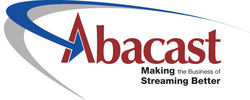 It's great to be part of the new way that radio is evolving online.
Camas, WA (Vocus) September 18, 2008
Abacast (http://www.abacast.com), a leader in online video streaming, has announced that it is streaming live video of the Rod Ryan Show for Clear Channel's 94.5 the Buzz.
The Rod Ryan Show, Houston's highly rated morning show, will be utilizing a Budweiser sponsored video player to bring Rod's radio show to his online listeners. The Bud Light Peep Show Player will allow viewers to see right into the studio, with multiple camera angles, bringing a unique and exciting a perspective to the audience. Fans will now be able to see all of the crazy stunts and antics that the Rod Ryan show is known for.
"By utilizing Abacast's technology for the Peep Show on thebuzz.com we have been able to cost effectively deliver the live video element we needed for the Rod Ryan Show," said Nick Peterson, Director of Internet & Integrated Marketing for Clear Channel, "Video has proven to really add value to our morning show and to our website in general."
"Abacast is proud to be part of the relationship between Clear Channel and Budweiser," said Michael King, President of Abacast, "It's great to be part of the new way that radio is evolving online."
About Abacast:
Abacast, Inc. is a commercial quality, Hybrid Content Distribution Network (CDN), offering the most options in the industry to distribute and monetize Internet distribution of rich media including live video and online radio, Video-on-Demand, and games and software.
###