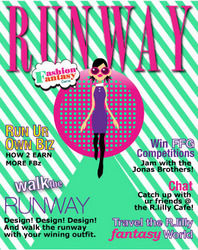 to really allow them a way to feel good about themselves, from the inside out.
New York, NY (PRWEB) September 19, 2008
The moniker of Fashionfantasygame.com is rooted in the entrepreneurial endeavors of the R. Lilly Tuckerwear Company, founded by Nancy Ganz, who is the inventor of 'Shapewear'. Her company Body Slimmers/Nancy Ganz gave women the 'Hipslip', the so -called 'Girdle of the 90S's', which was sold to Warnaco in 1996. Having a proven track record in the fashion industry, Ganz has set out to stake all odds with her latest endeavor.
Fondly named after her daughter, R..Lilly, Ganz was inspired to create this new virtual fashion portal from watching the different dressup games and simulation games that her young daughter played online. "The idea behind this fashion game is to give girls a sense of accomplishment," says Ganz, "to really allow them a way to feel good about themselves, from the inside out."
The mission statement behind this website is simple: Teach young girls about the intricacies of the business world of today, offering them invaluable business learning tools, under the premise of a safe and friendly, fun social networking website. Children are able to create and design their own unique fashion styles, market them in their own virtual online stores, create an advertisement for FashionFantasyGame's 'Runway Magazine' and eventually become an online fashion mogul.
Inclusive of this entertaining fashion curriculum are the ins and outs of the current fashion industry. Players must decide where to open new storefronts, how to design the layout of the stores, what products they should offer inside of their stores and how they should go about marketing their products. The players are able to create, market and sell their products in virtual stores in exchange for Fashion Buckz (the virtual online currency). Members are even able to participate in online contests, of which the winners are even featured on the home page of the website with their winning designs.
Never before has a website offered such creativity, interactivity and learning skills all wrapped up coyly in a safe, and fun, web learning environment. Perhaps this is why the website has seen such a great success over the past several months, climbing up the ranks of the internet from an unknown gaming site, to a premier fantasyland of fashion moguls.
About R. Lilly Tuckerwear Company
The R. Lilly Tuckerwear Company offers an entirely safe tween and teen virtual fashion world that encourages interactivity and is geared for girls ages 8-16. It focuses on peer-to-peer communications, confidence-building and learning in a entirely safe and secured web portal. It educates children on the business aspects of the fashion world by using a fun, safe and interactive online learning environment. It offers a state-of-the-art on-line virtual fashion universe with virtual on-line stores and cities. The emphasis is an exiting virtual environment where tweens learn how to manage and run their own fashion business, including marketing, budgeting and promoting their own fashion lines and apparel, to create an empire. You can visit their online fashion portal at: http://www.fashionfantasygame.com.
###