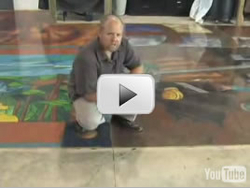 Yucaipa, CA (PRWEB) September 19, 2008
Looking for a unique, durable, and cost effective floor for a home or business, then consider installing a decorative concrete floor. ConcreteNetwork.com offers a new concrete floor video series "Floor Me" that features over 70 videos that answer every question imaginable when it comes to installing concrete flooring. Get information on typical concrete flooring costs, maintenance requirements, how to replace old flooring, and more.
The video library, separated in to seven key groups, is now easier than ever to navigate; ensuring consumers find exactly what they're looking for. Video topics cover types of floors, design ideas, common questions, why to choose concrete floors, replacing existing floors, choosing a contractor and maintaining concrete floors.
Industry expert Bob Harris, host of the video series, shares over 25 years of decorative concrete experience and expertise as he answers questions, provides design tips and offers words of caution for those exploring concrete flooring options. Harris reminds consumers to do their homework before choosing a concrete floor and consult with a qualified contractor.
Videos are short and easy to watch, lasting from one to three minutes in length. They are ideal for homeowners, builders, designers and architects who are looking for a durable, cost effective alternative to traditional flooring materials like carpet and tile. Concrete floors offer consumers several benefits including complete customization in color, design and texture.
Watch the concrete floor videos.
Established in 1999, The Concrete Network's purpose is to educate consumers, builders, and contractors on popular decorative techniques and applications. These include stamped concrete, stained concrete floors, concrete countertops, polished concrete, and much more. In 2007 The Concrete Network Website had over 11 million visitors researching decorative concrete.
The site excels at connecting buyers with local contractors in their area through its Find a Concrete Contractor service. The service provides visitors with a list of decorative concrete contractors throughout the U.S. and Canada, and is fully searchable by 23 types of decorative concrete work and 202 regional areas throughout North America.
###