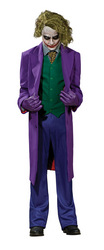 Alpharetta, GA (PRWEB) September 18, 2008
Mr. Costumes (http://www.mrcostumes.com), a premier internet retailer for quality costumes and accessories in the U.S., reports 2008 as the year of The Dark Knight and the Joker.
Following the success of the megahit Warner Bros. film, The Dark Knight, and the tragic death of actor Heath Ledger who portrayed the Joker in the movie, demand for adult-size Joker disguises on the Mr. Costumes website has skyrocketed. The popularity of the movie and the cultural effect of Ledger's death have propelled seasonal demand for the villain costume while effectively boosting the sales revenues and overall popularity of MrCostumes.com, an emerging player in the Halloween Costumes market.
So far this season, sales of Adult Costumes on MrCostumes.com make up approximately 61% of all revenues with sales of adult-size Joker costumes accounting for nearly 45% of that number. A major factor attributing to the Joker's retail success is the high amount of interest in a particular version of the costume -- the highly coveted, more limited 'Batman Dark Night The Joker' costume from the Grand Heritage Costume Collection. Chris Miller, co-founder of Mr. Costumes responded to this phenomenon by saying, "It's going to be an exciting inaugural Halloween for MrCostumes.com thanks to the box office success of The Dark Knight movie and the solid movement of the Grand Heritage Joker Costume."
Mr. Costumes is backed by parent company Trading Fort, LLC, a successful online retailer and operator of sister site, YardEnvy.com (http://www.YardEnvy.com), a fine patio and garden décor expo. With the support of their parent company and healthy 2008 Halloween sales compliments of the Joker, Mr. Costumes looks to be a major force in the online costume retail space for years to come.
About Mr. Costumes:
Mr. Costumes is a leading nationwide retailer of high quality Adult Costumes for every occasion. The company offers a premium line of Sexy Costumes, Plus Size Costumes and Superhero Costumes for the imaginative consumer. Their products are designed to look amazingly authentic while providing comfortable, breathable materials that also make them enjoyable to wear.
About Trading Fort LLC:
Trading Fort LLC operates a number of niche e-commerce websites and has enjoyed tremendous growth since its inception. Headquarted in Alpharetta, GA, the company offers dedicated customer service and fulfillment from its 40,000 square foot operating facility.
For more information about Mr. Costumes visit http://www.mrcostumes.com or call 877-595-1031.
Contact:
Aaron Hassen, 877-595-1031, Ext. 5016
Email: media @ mrcostumes.com
###