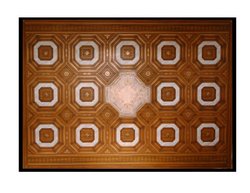 Moving to the Austin area has been a great decision and we're very happy
Austin, TX (PRWEB) September 18, 2008
Hailing from Flagstaff, Arizona, international artist Sean McConnell is a new arrival to Austin's art community. Sean's specialty is transforming virtually any environment by creating an illusion of space through incredibly detailed murals. He uses a process known as "Trompe L'oeil", which literally means "trick the eye".
Sean's breathtaking murals are masterpieces of art, meticulously planned and executed with painstaking attention to angles, lighting levels, positioning, and perspective. The end result is amazingly realistic - it truly looks as though you could step into Paris nightlife or visit a Roman villa.
In a recent interview, Sean told us more about his work and how he came to the Austin area. "I can paint anything from a Roman villa to a super-modern scene to an entirely imaginary realm. Since each painting is custom there is a real strength to it that you can't achieve with an ordinary painting, no matter how beautiful. I oftentimes include touches in the piece to reflect personal tastes or interests. In the past I have incorporated a daguerreotype of two of my client's children sitting on a shelf, an Italian villa where my clients had stayed years before, and once a glass vase that one client had fallen in love with but was sold before she could purchase it. Sometimes during a consultation, I might notice that a client collects Ming vases, or has a collection of Persian rugs, so I ask if they would like to work with those motifs."
"I named my company Envirooments because my goal is to construct a surreal environment and open up 'atmospheric space' through paint and light. My work is designed to enlarge the feel and enhance the atmosphere of any room." Sean's work ranges in size from art niches to entire walls, creating a virtual world through illusion.
"I really don't even like to call my work 'murals' or 'Trompe L'oeil'," Sean observes, "because it is so different from what people usually envision when they hear those terms. Most people immediately think of large murals on the side of a building, or wall decorations on their child's playroom - which are wonderful works of art, in their own way, just very different from what I do."
Sean's approach to his art is unique and designed to be as unobtrusive as possible. "I visit a client's home and then sketch what they envision happening in that space." Once the client approves the sketch, Sean returns to his studio to execute the mural. "These paintings are so detailed and they take a long time to be completed, so doing it in the studio means the clients don't have to deal with me painting in their home every day for 5 to 8 months, which makes it much more convenient for them. It also allows me the time to paint every vein on every petal, every grain in the wood, without feeling I am in the way."
After the mural is complete, it can be installed in about 2 hours - and the end result looks as though he was on site the whole time. When asked why he chose the Austin area, Sean tells his story. "I was signed up to do a Home and Garden show in Scottsdale, and they cancelled 13 days in advance. I called the show provider in Austin, and asked if they would have a space for me if I flew there - and they said yes." The show was over a weekend, by Sunday he had decided to move to Austin with his family, and the rest, as they say, is history.
"It all moved so fast - like it was meant to happen, and my family and I felt like we received such a warm welcome from Austin. I received three commissions in the area and my work was featured in a local article before we even moved here - such a great vote of confidence and an amazing reception."
Sean has been enamored with art from a very early age. He spent all his free time in high school selling fine art to collectors, had a cartoon series in local papers, and then earned a Bachelor of Fine Arts degree in Studio Art, as well as a Bachelor of Science degree in Interior Design.
He went on to work with noted artists Philip Pearlstein and Shawn Dulaney. "I learned a lot from both of them, although ultimately I chose to go a different direction," he muses, adding, "I never look at everyone else who works in this field as competition - this business is so small, we are all there to take care of each other and to learn from each other. Now that we have moved, I am really looking forward to meeting other artists in the Austin area and building relationships in our new community."
"Moving to the Austin area has been a great decision and we're very happy," Sean concludes. "The people here are so art-minded and friendly, and it's a great place to be. Even though we moved almost a year ago, it seems that we are just now settling in and wrapping up our former ties and responsibilities. After a year of getting established, we have finally finished out Arizona, and we can't wait to get in touch with Austin."
###