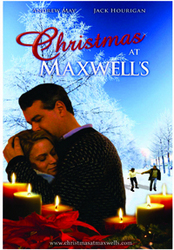 We are looking to TVS to bring Christmas at Maxwell's to the US domestic market.
Cleveland, OH (Vocus) September 18, 2008
TVS, (the Television Syndication Co) is handling domestic TV syndication for Laufer Film's new HD Christmas feature, Christmas at Maxwell's. Donna Kearfott, TVS's Syndication Sales Executive, is coordinating the syndication effort for this new PG rated holiday movie and efforts to date show a 30% domestic TV coverage. Bill Laufer said "We are looking to TVS to bring Christmas at Maxwell's to the US domestic market." Christmas at Maxwell's is based on a real life story and its issues of faith, hope and love resonate with TV audiences everywhere.
In the USA, contact Donna Kearfott, Syndication Sales Executive, TVS - Television Syndication Co, Inc. at 520 Sabal Lake Drive Suite #108 Longwood, FL 32779 Office: (407) 788-2551, Fax: (407) 788-4397 for syndication and distribution information.
International contacts can also reach TVS at MIPTV October 13 – 17, 2008, in Cannes, France. Cassie M. Yde, TVS President and Mary Joyce, International Sales Executive are handling Christmas at Maxwell's worldwide rights at the show. TVS's MIPTV offices are at the Sunset Marquis VIP Club. Please call 1.407.252.7386 or The Television Syndication Company.
Christmas at Maxwell's has received critical and audience acclaim and is quickly becoming a classic holiday movie. It has been awarded the Dove Foundation Award. The Cast of Christmas at Maxwell's includes Andrew May (Shades of Gray and The Babe Ruth Story for NBC, Duet and 227 for Fox, Striking Distance for Columbia Pictures), popular new Canadian star Jacqueline "Jack" Hourigan (How to Boil Water -The Food Network), Ready as She Grows (DIY Network) and Three Takes Slice TV), Helen Welch the beautiful English Singer and song-writer with cameos by writer / director Bill Laufer and the up and coming Callie Young. The music score is by Mike Petrone and Richard John Baker.
Please see an EPA Press Kit at http://www.christmasatmaxwells.com/press-kit-epk/PK-LG.pdf
The producers are also available for on-air interviews - contact LauferFilm.com (216) 229-4444. LauferFilm.com was founded in 1996 by Georgetown University grads Bill and Tiffany Laufer. They are a father - daughter film team. For additional info, check http://www.lauferfilm.com. , http://www.christmasatmaxwells.com/ & http://www.imdb.com/title/tt0420550/
###