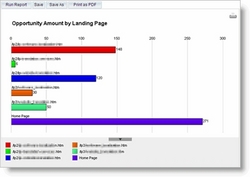 With this solution, Acclaro has an unprecedented view into the behavior of their prospective clients from the very moment they execute their first Google search.
Chicago, IL, and Irvington, NY USA (Vocus) September 18, 2008
Agilent Partners, online marketing automation and lead generation specialists for small and midsized businesses, announced today the completion of a semi-custom solution for one of its clients, Acclaro Inc., that forms a simple, cost effective system for managing online and offline marketing campaigns, all within SugarCRM.
There are a growing number of third-party, add-on solutions that provide marketing automation. However, Michael Kriz, president of Acclaro Inc., a rapidly growing language translation and localization firm recently recognized on the Deloitte Technology Fast 500, was looking for a simpler solution that allowed them to manage all of their marketing activities through a single system and dashboard. SugarCRM was chosen as the CRM product that best met their needs and Agilent helped further tailor it to support Acclaro's online marketing efforts.
Although Agilent has built marketing automation solutions as far back as eight years ago, most SMBs and even larger companies are just getting on board now with what automated nurture marketing can do for them. Brian Briggs, Managing Director for Agilent Partners, said. "With this solution, Acclaro has an unprecedented view into the behavior of their prospective clients from the very moment they execute their first Google search."
The solution is driven by a lead capture system, created by Agilent and integrated into Acclaro's website, that utilizes web services to communicate with the their on-demand SugarCRM system hosted at Sugar. The solution contains a number of industry leading features for the SMB market:

Visitor / Lead Tracking – All visitors to the client website are assigned a unique identifier that allows popular areas of the site to be tracked. When a visitor later chooses to identify themselves by completing a registration form or requesting a call back, a lead record is created in SugarCRM that includes all of the prospect's previous visit history.
No Lead Duplication – Many of today's CRM systems including Salesforce.com, SugarCRM, NetSuite and others, end up creating duplicate lead records in the system when a visitor takes more than one action over time (fills out a form, downloads a whitepaper, etc.). This can later cause problems when prospects receive multiple copies of emails and mailings during future marketing activities. Rather than having to manually de-dupe the lead database, a new SugarCRM plug-in was developed that keys off of the visitor's email address and updates the existing record rather than creating a duplicate lead. This has the added benefit of being able to see the history of the lead over time.
Marketing ROI Dashboard – One of the challenges today is that most CRM systems do not adequately address the needs for managing online marketing activities beyond email campaigns. With Acclaro's lead capture system, all of the pay-per-click (PPC) information, search terms, visitor's IP/location, landing page, etc. are brought in to the SugarCRM lead record when it is created. This allows Acclaro to easily create reports that key on the performance of ad campaigns, landing pages, GeoTargeting, etc.
ROI Reporting with Online Lead Gen / Offline Sales – By keeping all of this information within the single CRM system, Acclaro is now able to tie offline sales back to leads that were generated online. With this approach, the client now has a total ROI view of their marketing activities.
Closing the Loop for Call-in Leads – For many B2B firms that sell bigger-ticket products and services that close offline, many of their best leads will come in over the phone. This makes it extremely difficult for most companies to tie those leads back to the original online search activity that brought them in. Using a designated toll-free phone number can tell you they came from an online campaign, but that's usually as far as you can go without expensive third-party solutions. By using specially encoded emails, this solution developed by Agilent allows the caller's contact information given over the phone to now be tied back to their original visit history and campaign information. Closing this loop gives Acclaro a full accounting of all sales to marketing ROI.
Additional information about this new lead capture solution can be found at http://agilentpartners.com/our-work/lead-capture/.
About Agilent Partners
Agilent Partners is focused on the front end of business providing high-value consulting services that range from the creation of traditional and Blue Ocean marketing strategies, right through to the implementation of cost-effective solutions and programs for offline and online lead generation, marketing automation, and CRM integration. More information can be found at http://www.agilentpartners.com.
About Acclaro
With offices in New York, Boston and San Francisco, Acclaro provides multilingual translation and localization services for global business and technology. Acclaro's experienced localization team, industry best practices, technologies and collaborative approach enable them to consistently deliver flexible, cost-effective, quality services. More information can be found at http://www.acclaro.com.
# # #