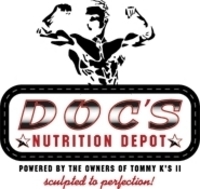 (PRWEB) September 19, 2008
Doc's Nutrition Depot (http://www.docsnutritiondepot.com) is constantly looking for way's to improve the site and customer service, giving the customer a great experience. Over the last couple of months Doc's Nutrition Depot has continued to make improvements on the site, which is leading to be a more user friendly site with unique product brands added daily. Doc's Nutrition Depot customers are treated like family this is the best way to do business, treating every single person with great importance and respect.
One of the first major improvements made at http://www.docsnutritiondepot.com is our new and improved shipping policy. Flat rate shipping is now available on all orders inside the 48 contiguous states. Docs Nutrition Depot has also lowered the minimum for free shipping to $125 dollars.The main goal at Doc's Nutrition Depot to extend as much savings as Possible to the customer, as a way of saying thank you for choosing us and to help save you money in a struggling economy.
Doc's Nutrition Depot now offers unique brands, which are effective and very well priced compared to the bigger competition. USP Labs is one of those brands; That Doc's like to think of as a diamond in the ruff. It is a smaller company growing at an intense pace, whose products work well and are cost effective. USP Labs Products can be found here at http://www.docsnutritiondepot.com/search.aspx?find=usp+labs . We personally feel Brands like this give great credit to the industry as a whole, showing the end result of serious research and hard work.
SST is another brand Doc's carries with amazing products made available to you. Doc's likes to think of this company as the king when it comes to powerful and effective amino acids. Through the years Doc's has sold hundreds of different types of amino's, but none of them have had such an overwhelming response with customers. SST products can be found here http://www.docsnutritiondepot.com/search.aspx?find=sst , when it comes to amino acids they are truly a force to be reckoned with.
Doc's Nutrition Depots Third unique company is called MuscleMeds. This company has two products on the market customers are raving about; they are called Arimatest and Hexaghen. When reading about these products they sound too good to be true, But have proven themselves to be 100% accurate again having an overwhelming response from customers. Arimatest is a powerful anti aromatase agent that triggers never before seen elevations in testosterone and Hexaghen is an IGF 1 activator being called the new holy grail of muscle growth. These products are being called the most exciting breakthrough on the bodybuilding circuit, A serious bodybuilders dream come true. MuscleMeds brand can be found here http://www.docsnutritiondepot.com/search.aspx?find=musclemeds on Docs Nutrition Depot.com.
Docs Nutrition Depot would like to shine the final Company spotlight on Pro Body builder and Chemist Dave Palumbo. Palumbo has a new line of superior supplements on the market called Species Nutrition. Dave's new line is nothing less then perfect, and even though it's not the cheapest product line on the market the quality is undisputable. Doc's rates Species products to be among the best available and know you are getting more then your money's worth when choosing to take Dave's Products. You can find Species Nutrition here http://www.docsnutritiondepot.com/search.aspx?manufacturer=99 , at Docs Nutrition Depot. Doc's would also like to announce Dave Palumbo's free Health seminar at our Elmsford NY location on October 11, 2008 starting at 1PM, for the store address please visit the about us page on the site, all are welcome to attend.
At Doc's we continually strive to improve the site, to give you the best prices and customer service possible. Doc's takes pride in knowing that we have grown our business over the years treating customers with with honesty and integrity, the same way we would like being treated when doing business with another company. http://www.docsnutritiondepot.com is committed to becoming the #1 site to go to for all of your Vitamin and Sport Supplement needs, and thank you for your continued support with our company, it is truly appreciated.
###