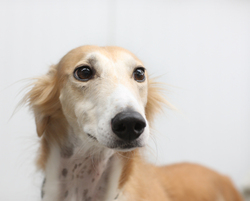 The dogs that end up in centres like ours are the lucky ones
York, North Yorkshire (PRWEB) September 20, 2008
Burgess, creators of the UK's first complete dog food for greyhounds and lurchers, are launching a new initiative to raise money for rescue charities.
Money from every pack of Supadog Greyhound and Lurcher sold will be donated to rescue centres which look after many of the greyhounds and lurchers abandoned in the UK every year.
For every small sack (2.5kg) sold, Burgess will donate 5p to rescue charities and this will rise to 20p per large sack (15kg). This permanent commitment is currently the only scheme of its kind being run by a pet food brand in the UK.
Christine Neasham, marketing director at Burgess, the company that makes Supadog, said: "The problem of racing dogs being discarded, mistreated or simply killed once their usefulness is over is a huge tragedy. At least 10,000 greyhounds are retired from racing every year, and less than half of those are found homes by the industry. Of the rest, a large proportion are unaccounted for and many end up as strays, creating a huge strain on the rescue centres which work so hard to look after and re-home them.
"Greyhounds and lurchers make wonderful pets - I owned a beautiful rescue lurcher myself and got so much joy from her. They are very popular pets, and it is easy to see why. They have a beautiful, gentle nature and are very easy to look after. Contrary to popular opinion, they do not need lots of exercise - two 20 minute walks a day is ideal. They have a relatively low stamina level and sleep a lot of the day, hence their affectionate nickname, the '40 mile an hour couch potatoes.' We would love to see all these dogs finding a loving, happy home, and we are passionately committed to helping give rescue charities the resources to achieve that."
Supadog Greyhound and Lurcher is specially formulated to meet the specific nutritional needs of pet greyhounds and lurchers. It has a lower protein content than other dog foods because as pets, greyhounds do not need very high levels - too much protein may even cause hyperactivity and stress in some dogs. It has added glucosamine to help ease stiff joints - a common complaint in former racing and working dogs - and fish oils that provide a healthy source of Omega 3 to help maintain great coat condition. The food is suitable for all dog breeds, particularly senior dogs over the age of seven or eight who are perhaps less active.
Tia Greyhound Rescue is one of the first centres to benefit from sales of Supadog Greyhound and Lurcher. Founded 11 years ago by Debra Rothery, Tia has re-homed more than 1,400 dogs. A constant campaign of fundraising is needed to cover the £200,000 it costs each year to keep the centre open. The centre counts One Foot in the Grave actress and greyhound enthusiast Annette Crosby among its patrons, as well as greyhound welfare campaigner and former trainer Maureen Purvis.
"The dogs that end up in centres like ours are the lucky ones," said Debra, "and some of those arrive here in a terrible state - beaten, starved, so sick they can barely walk, you name it, we've seen it. But we don't believe that any dog should die if there is a chance to save them - whatever it costs, we will pay the vet's bills, and then look after them until we can find them a loving, caring home.
"It is a battle, and the amount of money it takes just to cover our mortgage can seem scary at times. But we have a lot of fantastic friends and a lot of support. I am delighted with what Burgess has offered to do to help us and this scheme will make a big difference to a lot of dogs for years to come."
Supadog Greyhound and Lurcher is available from Burgess's online shop, http://www.burgesspetcare.co.uk, and all good independent pet retailers. It costs £3.49 for a 2.5kg sack and £14.99 for a 15kg sack.
###