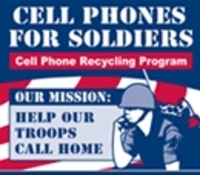 When we heard about Cell Phones for Soldiers, we were inspired to find a way to support the Bergquists' incredible mission
Norwell, MA (PRWEB) September 21, 2008
Today, Cell Phones for Soldiers received a $100,000 donation from Santa Rita Wines and Palm Bay International, one of the largest single donations ever received by the charity. Cell Phones for Soldiers will use the donation to fund 25,000 prepaid calling cards to members of the U.S. armed forces, providing troops overseas with 1.5 million minutes to reconnect with family and friends at home.
Cell Phones for Soldiers was founded by teenagers Robbie and Brittany Bergquist from Norwell, Mass., with $21.00 of their own money. Since then, the registered 501(c)(3) non-profit organization has raised almost $1 million in donations and distributed more than 500,000 prepaid calling cards to troops serving overseas.
A shipment to the Airmen and Family Readiness Center in the Middle East is the organization's largest shipment of calling cards to a single location, and was made possible by the support of Santa Rita and the winery's U.S. importer, Palm Bay International.
"When we heard about Cell Phones for Soldiers, we were inspired to find a way to support the Bergquists' incredible mission," says Michael Preis, Portfolio Director of Palm Bay International. "We are honored to work with the Bergquist family to raise awareness and support for the cause by leveraging the nationwide retail network that carries Santa Rita wines."
In total, Palm Bay International was able to raise more than $100,000 for Cell Phones for Soldiers through three initiatives:

During a three month period, Palm Bay International donated a portion of the proceeds from each bottle of Santa Rita, one of the premier Chilean wine brands in the U.S., to support the charity
Santa Rita point-of-sale literature and cell phone collection boxes were provided to more than 2,500 retail stores across the country, encouraging consumers to donate their used cell phones to the cause; donated phones were recycled by ReCellular, with Cell Phones for Soldiers receiving an average of $5 for each phone
In addition, Palm Bay International hosted a series of fundraising dinners, encouraging affiliate businesses to support the cause through monetary and used cell phone donations
"We have been overwhelmed by the support of Palm Bay International, Santa Rita wines, and their customers," says Bob Bergquist, the teen's father. "We are able to provide calling cards to an entire airbase through the generous donation of their time, expertise and resources."
Through increased fundraising efforts, the Bergquist family hopes to raise more than $9 million in the next five years to fund new programs, such as providing video phones and prepaid service to allow soldiers abroad to see their families on a regular basis.
About Cell Phones for Soldiers:
Cell Phones for Soldiers was created by Brittany & Robbie Bergquist of Norwell MA. After reading a story about a soldier who ran up a huge phone bill calling home from Iraq, these two teenagers decided to help out. They started by opening an account with $21.00 of their own money. They are collecting cash donations and old cell phones. The cell phones are recycled for cash and the proceeds are used to buy prepaid calling cards for our soldiers serving in the Middle East. Cell Phones for Soldiers is a registered 501(c)(3) non-profit organization. Their efforts have motivated people and businesses around the country to donate to this worthy cause. Their goal is to provide every US soldier with a way to call home for free. For more information, please visit cellphonesforsoldiers.com.
About ReCellular
With offices in the United States, Hong Kong, and Brazil, ReCellular Inc. is the world's foremost electronics-sustainability firm. ReCellular provides solutions for the collection, reuse and recycling of used cell phones that generate financial return for its partners, quality products for its customers, funding for charity organizations, and protection of the environment. Corporate, charitable, consumer and wholesale information is available at ReCellular.com.
About Palm Bay International
Palm Bay International ranks among North America's premier importers, offering one of the most valuable and comprehensive portfolios of imported wines and spirits in the United States. Celebrating its 30th Anniversary in 2008, this family-owned company has grown its portfolio brand by brand, introducing distinctive treasures from the world's eminent growing regions to wine and spirits lovers across the country. Today, the Palm Bay portfolio embraces approximately 75 brands from four continents, and includes some of the world's most prestigious wine estates, distilleries and most popular brands in the industry. A complete list of brands can be found at palmbay.com.
###