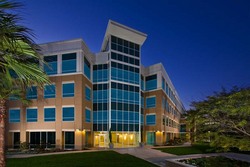 We are moving to Summit Office Campus because it is perfect for our employees and provides the right reflection of our brand. We're looking forward to growing our business here.
Aliso Viejo, CA (PRWEB) September 19, 2008
Bausch & Lomb, one of the oldest, best known and most respected healthcare companies in the world, has signed a five-year lease to occupy 24,000 square feet of space at Summit Office Campus in Aliso Viejo with the project's developer, Parker Properties, and its partner, RREEF Alternative Investments.
Bausch & Lomb will relocate its global surgical headquarters to 30 Enterprise at Summit Office Campus. With this latest tenant addition, Summit Office Campus, a Class A, 1.7 million-square-foot, mixed-use low-to-mid-rise office campus located in the heart of Aliso Viejo in south Orange County, is evolving into a premier location for medical and technology industries in Southern California.
"Our location must be attractive to our current and future employees, as well as provide a convenient location to interact with our business partners," noted Andy Corely, global president of Bausch & Lomb's Surgical business unit. "We are moving to Summit Office Campus because it is perfect for our employees and provides the right reflection of our brand. We're looking forward to growing our business here."
The Summit Office Campus and the Enterprise business corridor is home to a number of technology and medical industry-related firms bolstering the campus' attractiveness to new industries that crave an employee-centric environment.
"Summit was designed to appeal to corporations that rely on a quality, amenity rich environment that will attract and retain the best and brightest employees. That is why firms such as Avanir Pharmaceuticals, TechSpace, DATAllegro, Valeant Pharmaceuticals International, QLogic, OCTANe and others have found their way to the property and this area," commented Lee Redmond, chief executive officer, Parker Properties.
Ted Snell, Carol Trapani and Allison Schneider of CB Richard Ellis represented Parker Properties and RREEF in the transaction. Bausch & Lomb was represented by Greg Ficke of Cushman & Wakefield.
The Bausch & Lomb transaction comes on the heels of a number of milestones for the Summit Office Campus team. TechSpace recently renewed its lease for 86,000 square feet of space at 65 and 75 Enterprise. Pacific Life's Life Insurance Division completed its move of 1,000 employees into the company's new nine-story, 246,669-square-foot headquarters. Renaissance ClubSport recently celebrated the grand opening of its first full-service hotel and fitness resort in Aliso Viejo, the first in Orange County for the hotel operator. The new boutique-style hotel and fitness resort provides 174 guestrooms, a 75,000-square-foot world-class fitness facility, 5,500 square feet of flexible meeting space plus a restaurant and lounge to Summit Office Campus businesses and the surrounding area.
The Bausch & Lomb location is part of the newest speculative phase built at Summit Office Campus, which includes 1.5 million square feet of space completed to date. The project's latest phase encompasses 260,000 square feet of speculative office space including two, four-story buildings, targeted for Silver LEED certification.
Other factors driving the confluence of technology and medical-related industries into Summit Office Campus are the amenities and location of Aliso Viejo. Planned to balance jobs and housing, the City provides a diversity of entry-level to executive-style homes with a great deal of open space and a core of commercial and retail at its center. The community is linked to major Orange County business and educational centers and Los Angeles and San Diego counties by the 73 tollway corridor. Located adjacent and along a major stretch of Summit Office Campus, the tollway provides easy access to key business centers as well as significant corporate visibility.
"Ten years ago we envisioned that Summit would be an important part of this live/work community. Today, the complement of a south Orange County location, convenient housing and amenities and access to business centers and major destinations has made Summit Office Campus and Aliso Viejo a sought after business address. It's really been a dream come true," Redmond added.
About Summit Office Campus
Summit Office Campus is nearing completion of construction with more than 1.5 million square feet of space completed and one final eight-story office building in planning stages. The 12-building campus is located on a terraced hillside at the center of the master-planned City of Aliso Viejo. Built with the tenant needs in mind, Summit features pathways, outdoor work areas, lush landscaping and numerous water features. The project is home to successful companies including Pacific Life Insurance Company's Life Insurance Division, Qlogic, Lennar Homes, Fluor, AJ Gallagher and Valeant Pharmaceuticals International. Located off the 73 Tollway, Summit Office Campus is convenient to the major Southern California freeways and is just minutes from other major business centers, John Wayne International Airport and the beaches. http://www.summitoc.com
About Parker Properties
Parker Properties is a commercial real estate firm dedicated to developing high-quality, tenant-oriented work environments. The firm specializes in campus developments in master planned communities. Based in Aliso Viejo, California, the company was formed in 1976 in response to the challenges of a changing marketplace and has succeeded in meeting tenant demands and needs for flexibility within campus settings. Parker Properties is comprised of specialists in development, construction management, asset management, property management and real estate finance who combined, have developed and acquired 5.1 million square feet of office, industrial and retail projects throughout California. In addition to the two four-story buildings at Summit, Parker also recently completed a nine-story build-to-suit office tower for Pacific Life Insurance Company's Life Insurance Division at Summit and Summit Oaks, a five-story office building in Santa Clarita, Calif. http://www.parkerprop.com
About RREEF
RREEF Alternative Investments is the global alternative investment management business of Deutsche Bank's Asset Management division. RREEF Alternative Investments consists of three businesses: Real Estate, Infrastructure and Private Equity. RREEF Real Estate acquires and manages investments in commercial and residential property, and real estate securities on behalf of its institutional and private clients worldwide. Its product offering is global and comprehensive, including core, value-enhanced and high yield property investments as well as investments in publicly traded real estate securities. RREEF Real Estate has more than $76.1 billion in assets under management worldwide as of 30 June 2008. http://www.rreefcommercial.com
About Bausch & Lomb
Bausch & Lomb is the eye health company dedicated to perfecting vision and enhancing life for consumers around the world. Its core businesses include soft and rigid gas permeable contact lenses and lens care products, and ophthalmic surgical and pharmaceutical products. The Bausch & Lomb name is one of the best known and most respected healthcare brands in the world. Founded in 1853, the company is headquartered in Rochester, N.Y., and employs more than 10,000 people worldwide. Its products are available in more than 100 countries. http://www.bausch.com
# # #