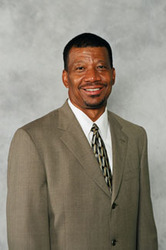 Tyree is well-respected among GSA's employees nationwide. Coming from one of GSA's field offices, Tyree will bring to FAS headquarters a valuable perspective as a regional leader
Washington (Vocus) September 19, 2008 -
Acting Administrator James A. Williams today announced Tyree Varnado will assume the role of Acting Commissioner of the U.S. General Services Administration's (GSA) Federal Acquisition Service (FAS) effective September 21, 2008.
Varnado, Assistant Regional Administrator for FAS in GSA's Greater Southwest Region, will succeed former Acting FAS Commissioner Barnaby L. Brasseux, who was named this week as the GSA's Deputy Administrator, also effective September 21.
"Tyree is well-respected among GSA's employees nationwide. Coming from one of GSA's field offices, Tyree will bring to FAS headquarters a valuable perspective as a regional leader," Williams said. "Tyree brings outstanding experience in delivering services to customers across all FAS business lines."
As Acting FAS Commissioner, Varnado will be responsible for leading the delivery of approximately $48 billion of best-value services, products and solutions to federal customers that increase overall government effectiveness and efficiency. Varnado will also provide leadership to FAS' 4,000 employees.
As a GSA field executive, Varnado managed the region's FAS operations. These included the Central Fleet Program, Marketing, and Property Management within the Greater Southwest and Rocky Mountain Regions, as well as several significant and unique programs: the Greater Southwest Acquisition Center, the Southwest Supply Center, the Information Technology Governmentwide Acquisition Contracts (GWAC) Center, and the Fleet Payment Processing Center.
GSA provides a centralized delivery system of products and services to the federal government, leveraging its enormous buying power to get the best value for taxpayers.

Founded in 1949, GSA manages more than one-fourth of the government's total procurement dollars and influences the management of $500 billion in federal assets, including 8,600 government-owned or leased buildings and 208,000 vehicles.
GSA helps preserve our past and define our future, as a steward of more than 420 historic properties, and as manager of USA.gov, the official portal to federal government information and services.
GSA's mission to provide superior workplaces, expert technology solutions, acquisition services, purchasing and E-Gov travel solutions and management policies, at best value, allows federal agencies to focus on their core missions.
###