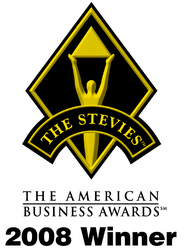 This was not your average company picnic
Charlotte, NC (Vocus) September 19, 2008
Last summer, more than 80 Muzak employees took part in an outdoor festival of music that featured more than 24 performances over a five-hour period. This summer, that event - called Summer Jam - was recognized with a Stevie Award, presented by the American Business Awards.
Honoring companies of all types and sizes and the people behind them, the Stevies recognize outstanding performances in business worldwide. Stevie Awards were presented in more than 40 categories including Best Overall Company, Best Executive and Best Corporate Social Responsibility Program. More than 2,600 entries from companies of all sizes and in virtually every industry were submitted for consideration.
"This was not your average company picnic," said Bruce McKagan, vice president of content services for Muzak and one of Summer Jam's founders. "Muzak employees are part of an incredibly unique corporate culture, one that is deeply rooted in and passionate about music. Music plays throughout our building every day, our staff includes literally hundreds of talented musicians and music is the medium we use to create experiences for our clients. With that in mind, we began to envision an event that would showcase and celebrate the amazing musical talents of our employees, involve employees in every aspect of the event planning and execution and allow employees' families to get in on the fun. That vision became Summer Jam," McKagan said.
Members of the Awards' Board of Distinguished Judges & Advisors and their staffs selected Stevie winners from among the Finalists. Finalists were chosen by business professionals nationwide during preliminary judging in April and May. Details about The American Business Awards and the list of Finalists and Stevie Award winners are available at http://www.stevieawards.com/aba.
About Muzak
As a leading provider of business music, Muzak creates experiences that reach more than 100 million people daily. Some of the biggest brands in business, from Ann Taylor to AT&T to McDonald's, work with Muzak to enhance their brand image in hundreds of thousands of client locations. Muzak creates a wide variety of core and custom music experiences for clients around the world. Muzak creates custom on-hold and in-store voice messages, and designs and installs professional sound systems, commercial television, drive-thru systems, digital signage, soundmasking systems and more through its national network of sales and service locations. For more information, visit http://www.muzak.com.
About The Stevie Awards
Stevie Awards are conferred in four programs: The American Business Awards, The International Business Awards, The Stevie Awards for Women in Business and the Stevie Awards for Sales & Customer Service. Honoring companies of all types and sizes and the people behind them, the Stevies recognize outstanding performances in business worldwide. Learn more about The Stevie Awards at http://www.stevieawards.com.
Global Sponsor of the 2008 Stevie Awards is Dow Jones. Supporting sponsors of The 2008 American Business Awards include FIS Softpro, High Performance Technologies Inc., John Hancock, RCN Corporation, Richardson, and Ultimate Software. Media sponsors include the Business TalkRadio Network, CRM Advocate, and Human Resource Executive.
###