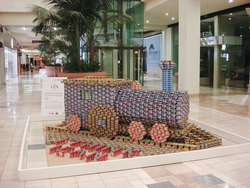 College and University students are savvy, sustainability experts and working with them has pushed our designers to new heights
Irvine, CA (Vocus) September 18, 2008 -
It was a light hearted and festive week for Design Firm LPA Inc. Teams from various departments (Civic, K-12, Higher Education, Corporate User, and Targeted Developer) and disciplines (architects, engineers, landscape architects, interior designers, etc.) came together for both personal and professional reasons.
The results were significant; four awards in one week. Look below, as we recap, highlight and unveil what organizations gave the awards, what they are given for and why they are important.
PHILANTHROPY
Award: Jurors' Favorite
Project: CANstruction / Costa Mesa, CA
In an effort to assist the Orange County Food Bank, the LPA CANstruction team gathered at South Coast Plaza to build a sculpture entirely out of canned food items. With designers, engineers, consultants, and nearly 9,000 cans the team built The Little Engine That Could: I Think I Can.
The Little Engine from LPA was awarded the grand prize of Jurors' Favorite; the sculpture will continue on to the National CANstruction Competition via slide photos and will be judged at the 2009 AIA National Convention in San Francisco, CA.
Jurors praised the substantial nutritious food items and the creative use of various can types and colors.
"And they did it without beans," exclaimed the jurors. "We adored the classic tale of the Little Engine and liked how the theme was clearly written in cans fronting the sculpture."
Congratulations to the wonderfully creative and collaborative team from LPA and a huge thank you to key sponsors: Hamrock, Inc., KNA Consulting Engineers, LPA Inc., Panelite, Ralphs, and Tangram Interiors.
View the entire CANstruction process in the online photo gallery.
ORANGE COUNTY
Award: Honor Award
Project: The Environmental Nature Center / Newport Beach, CA
Via web collaboration, esteemed judges Bob Berkebile, Cesar Pelli, and Cathy J. Simon awarded the Environmental Nature Center in Newport Beach an AIA OC Award of Honor.
As the first LEED Platinum building in Orange County, the design-forward building sets an example for sustainable building design and showcases timeless architecture in its natural setting. Literally.
Design Principal Rick D'Amato worked with Civic Principal Jim Wirick, Project Manager Dave Duff and Project Designer Ti Thang to actualize the vision into a reality. The building and learning center at the Environmental Nature Center compliments 3.5 acres of natural preserve by teaching visitors about the ease, comfort and benefits of sustainable design.
For more information and a list of sustainable design features, visit http://tinyurl.com/6q9oxp.
EXCELLENCE IN COLLEGES
Award: Community College Facility Coalition Award of Excellence
Project: Cuyamaca College Student Center / El Cajon, CA
Award: Community College Facility Coalition Award of Honor
Project: College of San Mateo Science and Planetarium Building / San Mateo, CA
Designing for the future has always been the function of the LPA Higher Education Market segment. This team of architects, engineers, landscape architects, interior designers and graphic artists thrives on working with a generation that no longer accepts the status quo.
"College and University students are savvy, sustainability experts and working with them has pushed our designers to new heights," said Design Principal Glenn Carels.
The Community College Facility Coalition (CCFC) has recognized excellence in community colleges for the past few years; LPA has been honored to receive awards every year and is thrilled to play a part in increased enrollment and campus enrichment. This year is no exception and LPA graciously accepts awards for the Cuyamaca College Student Center and the College of San Mateo Science and Planetarium Building.
Congratulations to Cuyamaca Design Principal Glenn Carels, Managing Principal Chris Torrey, Project Manager Jim Raver, Designer Tonya Pauli, Landscape Architect Rich Bienvenu, Interior Designer Winston Bao and Entitlement Coordinator Gloria Broming.
For the Science and Planetarium building at the College of San Mateo, we tip our hats to Managing Principal Steve Kendrick, Design Principal Glenn Carels, Project Manager Ken Francis, Designer Paul Breckenridge, Landscape Architects Kevin Sullivan and Stephen McMurchie, Interior Designer Patrick McClintock and Entitlement Coordinator Gretchen Zeagler.
For more information please visit http://www.LPAinc.com
For interview opportunities contact:
Rochelle Veturis
LPA, Inc.
5161 California Ave., Suite 100
Irvine, CA 92617
(949) 701-4148
rveturis@LPAinc.com
###