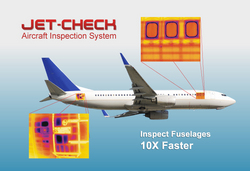 Irvine, CA (PRWEB) September 22, 2008
This will be the 51st Annual NDT Forum at the Seattle Airport Doubletree Hotel, Seattle, WA, Monday, 9/22 through Thursday, 9/25. The ATA NDT Forum enables industry leaders from around the world to meet and discuss important NDT issues and methods.
Jet-Check is currently used as an NDT solution in Europe by companies such as Airbus and Lufthansa. The event represents the formal introduction of Jet-Check, which has received FAA approval, to the U.S. Aerospace Industry.
According to moviMED President Markus Tarin, who will be speaking at the event; "moviMED will be promoting our Jet-Check system that offers unparalleled performance in fuselage inspection. The technology behind Jet-Check marks a significant leap forward for inspection efficiency and cost-savings for aircraft companies. The recent events surrounding the Boeing 737 safety inspection failures highlight the need for faster and more reliable inspection methods for the industry in the US. Jet-Check cuts inspections times down 10X compared to the time of alternative NDT inspection methods for the aging 737. What once took 1000 hours can now be done in 100 hours with Jet-Check."
Established in 1999, moviMED is a provider of engineered thermography solutions. The "moviTHERM" division features specialized expertise in infrared thermography and non-destructive testing technology. Applications range from NDT inspection of metallics, ceramics and composites. The number of the Seattle Doubletree Hotel is 206-246-8600, and for additional information on the Jet-Check system contact 949.699.6600 or visit movimed.com.
###