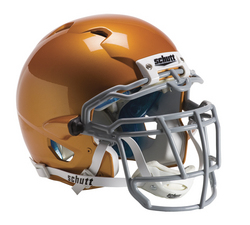 All of the athletic trainers we talked to were blown away by the advanced design of the ION 4D™
Litchfield, Illinois (PRWEB) September 21, 2008
Schutt Sports, the worlds leading maker of football helmets and faceguards, won the prestigious Best New Product of 2008 from the National Athletic Trainers Association. The ION 4D™ football helmet, the game's best performing helmet, won the award for the Best New Sports Equipment and Apparel category for 2008, beating out competitors like Riddell® and Xenith.
The award was voted on by membership of the NATA and attendees at this year's NATA Convention held in St. Louis.
"The athletic trainers are a notoriously tough crowd to please and they should be," said Dave Rossi, of Schutt Sports. "After all, the safety of the players is in their hands, so I'm glad they're extremely diligent about what new equipment they'll put on players. The fact that they voted the ION 4D™ the Best New Product for 2008 is a tribute to our entire ION team and something we're very proud of."
The ION 4D™ features design and engineering never before utilized in a football helmet. The helmet uses SKYDEX2™ TPU Cushioning, a cushioning system that absorbs up to 55% more force from impact than its top competitor. In addition, the ION 4D™ also features the Energy Wedge Faceguard, a completely new design that acts as a shock absorber for direct frontal impacts to the helmet.
"All of the athletic trainers we talked to were blown away by the advanced design of the ION 4D™," said JC Wingo, Executive Director of Football Development at Schutt. "The goal of any athletic trainer is simple: do everything they can to keep their players as safe as possible and the ION 4D™ helps them do that better by as much as 55%."
The SKYDEX2™ TPU Cushioning inside the ION 4D™ is the latest generation of advanced padding first introduced by Schutt in 2003. The new Energy Wedge faceguard on the ION 4D™ adds yet another wall of protection developed by the Schutt team.
"Our designers were able to incorporate technology and features that do more to protect players from the force of impacts than other helmets," said Rossi. "Instead of measuring how hard a player just got hit, we focused on preventing as much of that force as possible from actually hitting a player. We also spent a great deal of effort creating a helmet that performs its best at temperatures consistent game-like conditions, not at room temperature like most helmets. In our mind, those are better places to focus our efforts and this vote of confidence from the NATA membership shows we're on the right track."
Sales of the ION 4D™ have far outpaced expectations in its first year, said Rossi. Along with the ION 4D™, Schutt also introduced the AiR XP™ - a helmet featuring much of the same technology as the ION 4D™, except in a traditional helmet shell. A third helmet, the DNA Pro, was also updated with the new SKYDEX2™ TPU Cushioning and all three helmets have youth versions available.
###